State Govt. Employees demands 10% SDA and promotion in reservation
By
Reach Ladakh Correspondent
Leh, Jun 26, 2019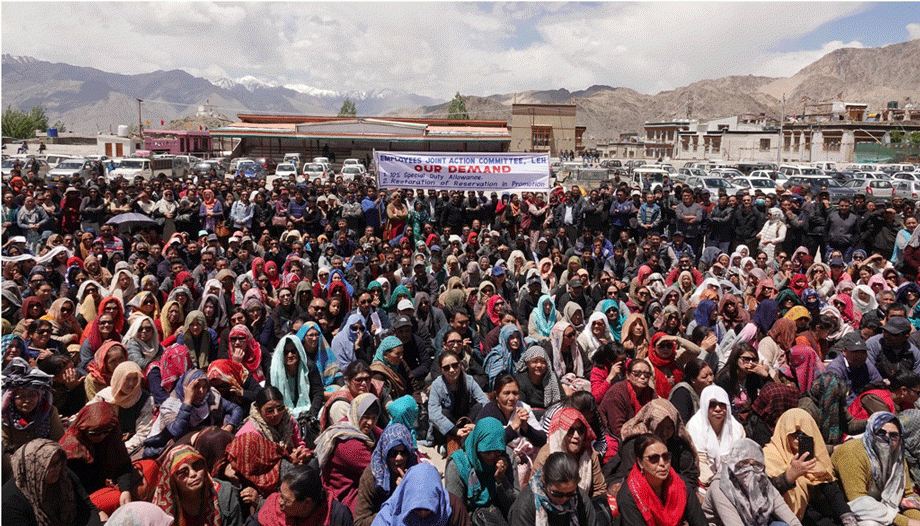 Leh :
All the government employees including the HODs of Leh district went on complete pen-down strike in protest of non-fulfilment of their long pending demands on June 26. 
A rally demanding 10% Special Duty Allowance (SDA) and restoration of Reservation in promotion was organised by State Govt. Employees Association Leh. They also demanded the release of the salary of teachers under RMSA, SSA and RET of Leh district which is withheld since March 2019.
Thousands of Govt. employees participated in the rally which started from NAC Eco-Park Leh and culminated at Polo-ground, Leh.
Tashi Chosphel. President, AGEA, Leh said that the demand of 10% SDA to the Govt. employees working in Ladakh is very genuine considering area specific hardships including inhospitable climatic condition, inadequate healthcare facility, and high cost of living.
The speakers highlighted that the consequences of pity allowance for employees working in Ladakh resulted in their reluctant to work which has grossly affected all the important sectors like education, health and development.
The Executives of the Employees Union threatened for more strikes if the Govt. fails to respond to their genuine demand.
The Central Government employees working in Ladakh have been granted 12.5% SDA since 2006 under Sixth Pay Commission while the State Govt. has kept its employees of Ladakh Division deprived of this benefit.