Smartphone Film making training held in Leh
By
Reach Ladakh Correspondent
Leh, Sep 25, 2019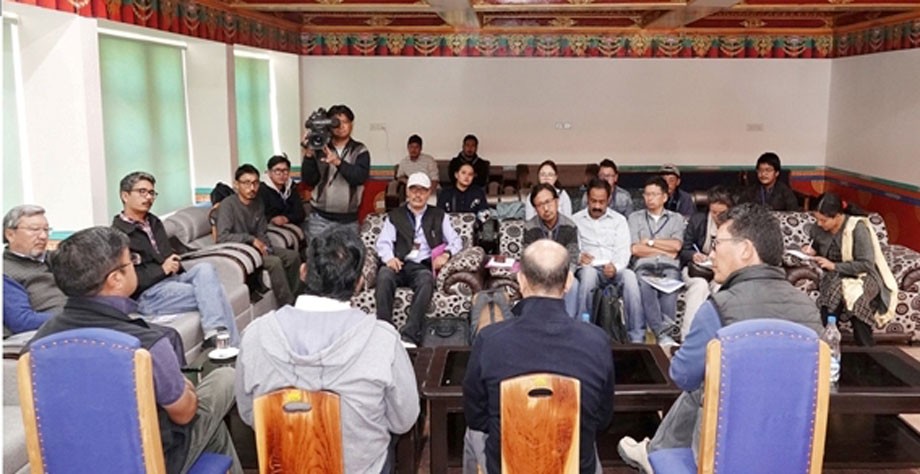 Leh :
A 10 days basic course in Smartphone Film Making under Skilling India in Film & Television (SKIFT) initiative started on September 24 at Officer's Club, Leh.
The course was organised by Film and Television Institute of India (FTII), Pune in association with Hill Council, Leh.
A total of 20 people took part in the training. Kacho Isfandyar Khan renowned writer, historian from Chiktan is the senior-most participant.
Moses Kunzang, ADDC, Leh, chief guest said that the training in Smartphone film making is very relevant in the present time. He expressed gratitude to the faculty of FTII and local nodal officer for organising such useful training for interested locals in Leh itself. 
He stressed on the presence of mind and technical knowledge in handling smartphones for film making. 
Moses Kunzang also shared his experience in ethnography film making and spoke about the efforts and time that goes beyond the camera in making a film. 
He urged the officials from FTII to continue with the training program in future making it an annual event in Leh. He further wished success to all the participants and asked them to take maximum benefit from this training.
Prof. Sandeep Shahare, National Coordinator, SKIFT, FTII informed that for 110 seats in 11 different courses each year FTII receives 6000-7000 applications which show the interest in youngsters for cinema. 
He added that given the limitation of the seat in FTII and considering the huge demand for the cinema-related course, FTII has initiated an outreach activity under SKIFT since May 2017. 
He informed that in the last 29 months they have conducted 156 courses and trained 6500 participants across the country including one in Leh held last year. 
Sandeep Shahare said that the aim is to promote cinema, educate people about career prospects in cinema and give exposure to people in small cities and far-flung regions of cinema who has the potential but lack facility and opportunity.
Ajmal Jami, Course Director briefed about the training module that will focus on exploring film making process, use of smartphone in film making and exploring oneself. 
He said that the involvement of heavy expenditure has always been a drawback in film making confining many films just within the minds. 
He added that the Smartphone is a powerful instrument to explore creativity, voice thoughts and communicate with the world. Such courses using smartphone will give opportunity to people with passion for cinema to live their dream and step in the world of cinema.
Tsering Angdus, A.D. Information appraised about the 10 days training program. He expressed gratitude to ADDC, Leh for his support and FTII for offering such crucial training in cinema to Ladakhis considering special financial relaxation for the participants.