Seminar held on co-creating sustainable local economy in Ladakh
By
Reach Ladakh Correspondent
LEH, Jun 16, 2018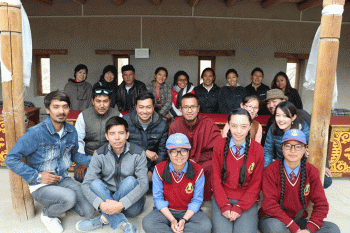 LEH :
Ladakh Wisdom Forum, 2018 conducted a seminar on the theme, 'Co-creating sustainable local economy in Ladakh' on May 26 at Alchi Kitchen, Leh.
Around 40 people including students from Lamdon School, Leh, Central Institute of Buddhist Studies, After School, Phyang and SECMOL attended.
The seminar was organised by NGO Julay Ladakh and Socially Engaged Buddhists of Ladakh (SEBoL). Scholars and expert including Dr. Mohammad Deen, President, LEHO, three young ladies from Japan and local entrepreneurs in apricot, local handicrafts and traditional food corner spoke on different topics related to the local economy.
Ladakh Wisdom Forum was started 6 years back in Ladakh with the supports from 000 Groups of NGOs in JAPAN. And in collaboration with JULAY LADAKH & SEBoL, various workshop and seminars are conducted on various themes mainly related to Ladakh along with global issues.
Skarma Gurmet, Director, NGO JULAY LADAKH Japan said that local economy means a business based on local resources, produced and consumed locally in an organic manner which is sustainable in nature. In terms of Global economy, few of the multinational companies produce and is consumed by the mass. There is no importance on how it is produced whether it is organic or not and no considerations usually impacts local socio-economic and environment.
Talking about the plastic packaging of local products, Skarma Namtak, organic shop owner in Leh said that though the plastic packaging is restricted by all NGOs and the Government in Leh but without plastic packaging it is very challenging to sell local products in Market because of the dust particles and products like Apricots easily get rotten due to moisture when export outside.
Noguchi Medori and Saki Fujioka from Japan spoke on Impressions of Ladakh and its local socio-economy and Global and the local economy as per Japanese perspectives, respectively.
Talking about organic local products, Dr. Deen said that LEHO is linked up with four different schools namely Lamdon School, Leh and Shey, Lingshed hostel-Choglamsar and Jamyang School to educate about the agriculture and organic products.
In group discussion, views of different people on reintroduce of plastic packaging for local products, preservation of local medicinal plants, need of guidance in tapping the potential resources such as seabuckthorn, introduction of traditional arts and crafts education in schools, serving traditional food in schools and avoiding plastic tiffin box and packaging foils, need of developing local economy and adopting organic farming by banning chemical fertilizers were carried out.