Saugat Biswas chairs Revenue review meeting
By
Reach Ladakh Correspondent
Leh, Sep 12, 2020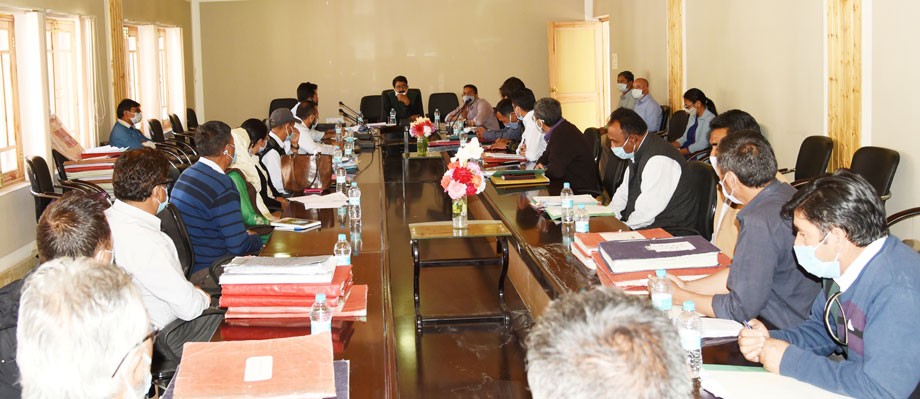 Leh :
A review meeting of the Revenue Department of Leh district was convened by Divisional Commissioner/ Secretary Revenue, Saugat Biswas on September 11. 
The meeting deliberated on the current position of Jamabandi, Girdawari, dor-jamabandi, mutations, registration, encroachments, land acquisition cases, disposal of Revenue/Judicial cases, implementation of PSGA/RTI Act, and redressal of public grievances, settlement operation vis-à-vis Digital India Land Record Modernization Programme (DILRMP) and issues regarding the deposition of registration fee under stamp act among others.
Saugat Biswas directed completion of partially updated Jamabandis within two months.
To maintain up-to-date land records and early redress of issues and cases, the DC's and SDM's are required to submit their monthly reports and tour diaries to the Divisional Commissioner. Similarly, at Tehsil and Niabat level, the Tehsildars and Naib Tehsildars were directed to ensure the maintenance of their tour diaries.
A committee comprising ACR, Tehsildar, and HQA Leh was formed during the meeting to examine the process for issuance of income and property certificates and streamlining of the same. Also, a committee comprising Tehsildar, Naib-Tehsildar, and IT consultants was formed to examine the process for the issue of certificates by the Revenue department which can be made on-line and to make their recommendation within ten days.
To streamline the process of issuance of Death & Birth certificates, a UT level committee comprising the ADCs of both the districts, SP Kargil, CMO Leh, EO Municipal Committee was also to be set up by the Revenue Department immediately. 
Biswas directed SDM Khaltse and Likir to submit a report of the total available State Land in their respective Sub-divisions in the next meeting. Other SDMs were also given similar directions. 
Tehsildar Leh informed that towards the process of digitization of revenue records of Leh district, more than 5 lakh pages have been scanned so far.
To discourage encroachment of lands in the district, the officers and the officials were asked to be vigilant and to ensure that there is no illegal allotment of land made without following due processes under revenue laws.
Taking cognizance of about 569 pending mutation cases, Biswas stressed on the completion of at least half of the cases before the next meeting that is scheduled after a month. 
Deputy Commissioner Leh, Sachin Kumar Vaishya; Additional Deputy Commissioner Leh, Dr. Zahida Bano; Sub-Divisional Magistrates of Nubra, Nyoma, Likir, Kharu, Durbuk, and Khaltse; Tehsildars, HQ Assistant, Mohd Sharif along with concerned Naib Tehsildars of 15 Niabats & Settlement NT were present during the meeting.