Sanghasena receives prestigious 'World Peace Ambassador Award 2014'
By
Tenzin Menkyi
Choglamsar, Oct 01, 2014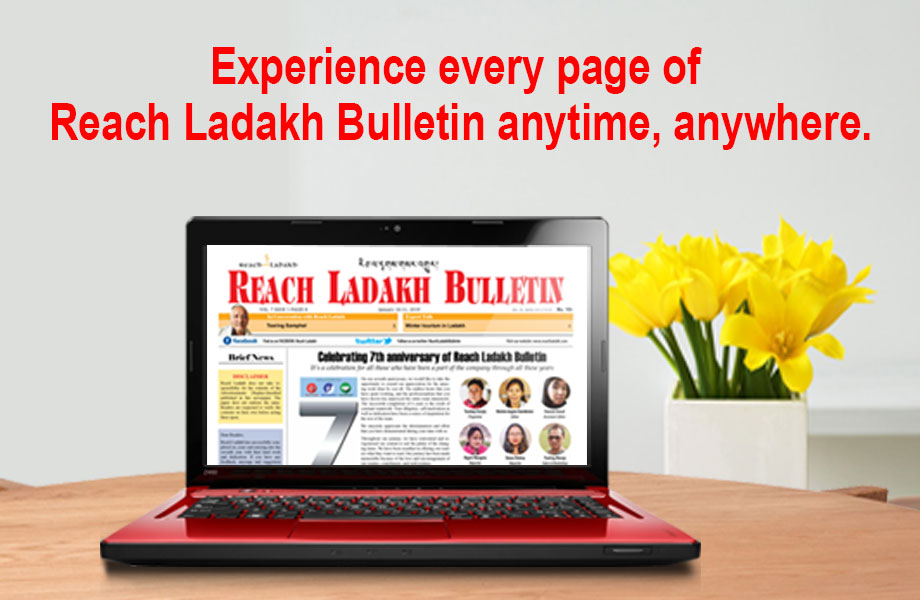 Choglamsar :
Bikku Sanghasena, the founder President of Mahabodhi International Meditation Centre (MIMC), Leh, Ladakh was presented the coveted World Peace Ambassador Award for the year 2014, on September 27 at MIMC Cultural Hall, by the President and members of Save the World Foundation (SWF), Thailand for his outstanding contribution in promoting World Peace and Harmony, Co-existence and brotherhood, both on micro and macro levels.

Some of the earlier prominent recipient of the award includes: Aung San Suu Kyi, Chairperson of National League of Democracy, Myanmar; William Henry Bill Gates, Co-Founder Microsoft; Richard Tiffany Gere, Hollywood Actor; Mark Elliot Zuckerberg, Chairman &CEO of facebook Inc; Dr. Mel Gill, Psychologist, famous TV and Radio personalities and many more.

Master Satthittham Pensuk, Founder President of SWF, Thailand and 22 eminent delegates visit Ladakh solely to confer the title and to present the prestigious award. The function began at around 6pm with lighting up of auspicious butter lamp and pay homage to Buddha by both the founder of MIMC and SWF. The evening filled with ranges of programmes: students of MIMC cited school's motto, sung welcome song, hosted flags, briefly introduced Sanghasena and his achievements, brief speech for the occasion by the eminent guests which concluded with cultural performance by the students with much fervour.

In her citation, a representative of SWF says: "Most Venerable, Bhikkhu Sanghasena has distinguished himself as both a charismatic and highly energetic social and spiritual reformer over the years which made him an internationally well recognised and respected personality. This award is presented in the recognition and profound appreciation of his great service for the world peace and brotherhood."

She further added: "he has travelled extensively around the world and participated in many international conferences, seminars, dialogues and peaceful co-existence, inter-religious harmony and creation of a global family etc. He urges everyone to promote spiritual and cultural values through mediums like holistic education, environmental protection, mutual trust and friendship, non-violence etc. He actively supports the elevation of the status of women, physically challenges people, underprivileged children. Furthermore, he also raises his voice against issues concerning the whole world like destructive armaments, destruction of the environment and ecology, human injustice, consumerism, economic imbalance and racism etc.

Besides strongly proposing and advocating the creation of a global family as last solution to the serious crises faced by the current world, he is actively working with several leading national and international organizations, which are committed to developing a safer, better and a more peaceful and inclusive world of the entire humanity."

The award bestowed to Sanghasena by Satthittam Pensuk has a certificate with a citation, a statue of Ganesha, and other two statuettes representing Thailand's sacred Theravada tradition was followed by presentation of ceremonial white scarf by entire guests in a long queue congratulating him for being a recipient of such prestigious award.

In his award acceptance speech, Sanghasena said: "I am deeply touched, moved, encouraged by your goodwill gesture" and continued "the guests spoke so high of me that I am afraid if I deserve such appreciation, however, with humility and gratitude, I accept your prestigious award, not to glorify my personal name but to receive it on behalf of all dedicated members of MIMC and its supporters."

"In the land of Buddha, Mahavira and Gandhi, walking with a path shown by them, a son of soil of Ladakh, who through his sheer commitment, hard work and strong will power has brought so much laurels and fame, not only to Ladakh, but the entire country through his service to the humanity at large and Ladakh in particular, I salute you Sanghasena." said Rigzin Spalbar in his congratulatory speech to Bhikku Sanghasena.

Souvenirs were presented to all the 22 delegates by Bhikkhu Sanghasena, in exchange, SWF, Thailand's representatives has also offered gifts to MIMC students.

The function concluded cultural performances by enthusiast student followed by dinner to all the guests.