RGNIYD organises weeklong training on life skills
By
Reach Ladakh Correspondent
Leh, Sep 07, 2015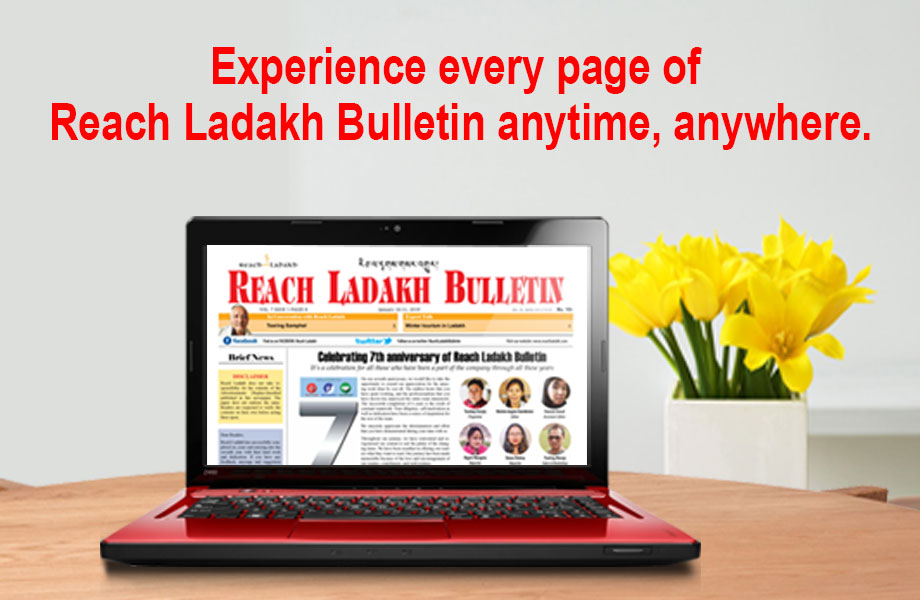 Leh :
Rajiv Gandhi National Institute of Youth Development (RGNIYD), Regional Centre, Chandigarh in association with DIET, Leh organised a week-long "Training of Trainers (ToT) on Life Skills" workshop for teachers of DIET Leh from 24th to 29th August.
Local resource persons were invited as speakers to speak on Life Skills like communication, leadership, time management to the trainee teachers who were expected to disseminate this knowledge to their respective schools, colleague teachers and students.
Naeem Akhter, Education Minister of J&K attended the workshop on 27th August & had an interaction with the trainees. He stated that he is always on a lookout for such interactions. He said that the 'Teach for India' team from Pratham has been working in remote places of Kashmir.
He pointed out that one of the biggest problems in education department is that we have been focusing on expanding the system instead of improving the quality and delivery of the system. The schools buildings in villages are many, but the teacher student ratio is skewed.
He added that in this process of expansion, in spite of being a good teacher the dignity and reputation of teacher has been compromised and the teachers should come together and work to provide one good school to every village. He also said that observation and accountability should be the qualities that a teacher must have and infuse them in their children too. He said that the universalisation programme has deviated the focus from the child and the teacher and that is why the Govt has adopted the transfer policy. He also showed concern over the section of students(boys) who discontinue studying after 10th or 12th, not getting into creative jobs that will directly contribute to the development of the society.
There was also a discussion on how important local art and craft for the students in schools and that it should be made as an optional subject for interested students that gives a channel of expression and tap them provide atmosphere.
Stanzin Dawa, Coordinator RGNIYD, of Regional Center Chandigarh, said that the quality of the teachers depend upon the quality of teachers in DIET so DIET should have a regular permanent faculty who should go through quality training programmes for teachers, how to facilitate programme so that they can share these knowledge to the new group of teachers.
He called RGNIYD an apex institute for youth development. He said that the main aim of the present workshop is to develop life skills among the teachers who after learning would inculcate the knowledge to their children and colleagues in school.
He agreed to the fact that political participation of women is low and that it is important that women come to the forefront and participate in the political fields so that they can also be a part of policy and decision-making body. He added that women must take an interest in politics, but there is a lack of enabling environment for women participation.
He emphasised that a real leader should produce and make space for the woman so that they too can come forward.
He says that there is a hope that the youth of Ladakh hold a bright future for the region if parents, policy makers and organisations can nurture well-formed mind, students.
Konchok Angmo Principal DIET said that DIET has been focusing on training elementary teachers for quality education. She also added that the education dept and ICDS have come together to train teachers on how to handle the small children. She said that workshops are being conducted with many NGOs and in the coming winters they have training sessions for the teachers. She also said that the growth of the teacher is important & this workshop is conducted so that the teachers develop the necessary life skills and infuse it into their school.
The workshop concludes on 29th August that was attended by CEC Rigzin Spalbar & he appreciated the endeavor of Stanzin Dawa.
He said that the real benefit of this training will be realized only when these teachers will implement their skills practically in their respective schools and pass on their knowledge among their friend teachers. To check the result of such important trainings, CEC instructed DIET, Leh to evaluate the impact of such trainings while visiting different educational zones and also requested Stanzin Dawa to visit different schools to see the fruit of their hard work.
The main content of the ToT was based on themes such as, Introduction to the concept of life skills and life skills education, life skills for knowing and living with oneself, life skills for knowing and living with others, life skills for communication, positive attitude, time management, water conservation, goal setting and decision-making, life skills for leading a happy life, and application of life skills in their personal and professional life.