Rancho's School celebrates 13th Founder Day
"All we need is one ornament on our neck (CBSE) and we are ready to rock" said VP, DPKS
By
Tenzin Menkyi
Shey, Oct 01, 2014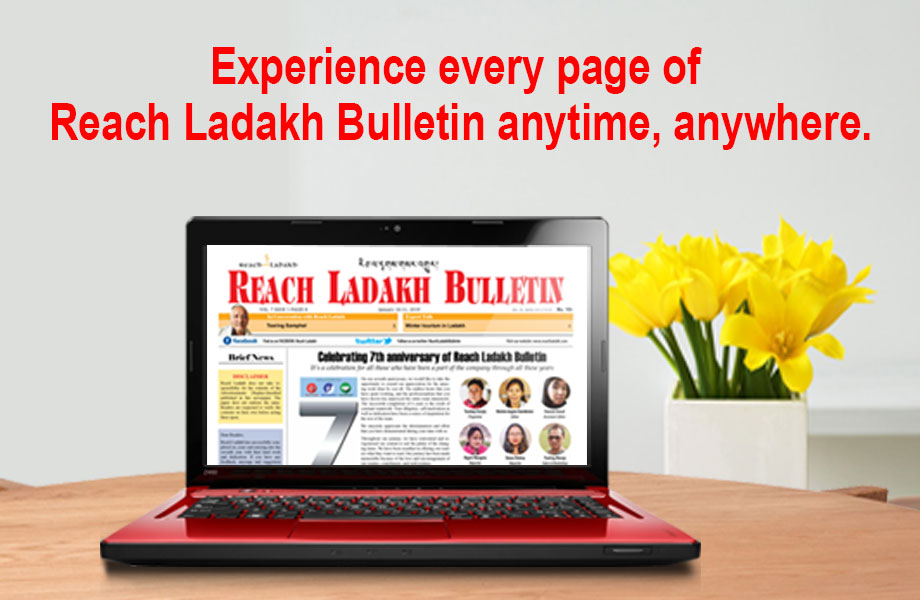 Shey :
Perhaps, the most popular school in Ladakh known nationally for its appearance as Rancho's School in 3 Idiots, a runaway success Bollywood film, Druk Padma Karpo School (DPKS) had a grand 13th anniversary celebrated as Founder's day cum Parents day on September 24 at about 12am. The function saw ranges of action performed by students of all classes and was hosted entirely by two girl student, in Ladakhi and English language respectively.

Rigzin Spalbar, CEC, LAHDC: Chief Guest for the occasion inaugurated an open air Science Project Exhibition themed "The Spark Park", saw the students demonstrating best of their science skills.

The formal function began with lighting up of a ceremonial butter lamp by H.E. Kyabje Thuksey Rinpoche, Chairman DPKS and Rigzin Spalbar; simultaneously, students recite prayers to pay homage to the Buddha.

In her welcome speech, Tenzin Kunsang, Vice Principle, DPKS eulogized Thukshey Rinpoche and said: "under guidance and aura of his vibrant and energetic trait has kept us all working productively". She welcomed entire guest, especially the parents. In a brief report of the school, she spoke high of the school with the statement: "DPKS is one of its kinds, with world class infrastructure, spacious classrooms, art room filled with creativity and newly build Math lab with proper equipments, play ground, expectantly within a year: an indoor stadium with the facilities of long track run and basket ball court will be erected. Although, challenges being part of every endeavor; we are looking forward and striving to be at par with rest of the schools."

She boast of the school with 711 students, average of 38 students in each class with a good student-teacher ratio is still looking forward to accommodate at least around 1000 pupil. With a promise of quality education, she announced its open admission to all the parents presented at the function.

On requesting the CEC to procure CBSE standard to the school, she appealed: "all we need now is that one little piece of ornament (CBSE) on our neck and we are ready for the show. With that she promised: "DPKS is going to rock in coming one year. "

To celebrate the spirit of the school, school's choir team sung the school's song authored by their spiritual guide: H.E. Kyabje Thuksey Rinpoche which was inducted during the function. It was followed by unfolding of new flags of four houses by Thuksey Rinpoche.

With the ceremonial Lharnga show, cultural program than began. A traditional folk dance, Jhuglu, was performed by the student, which echoes the cultural uniqueness of Shey Village.

H.E. Kyabje Thuksey Rinpoche in his brief speech acknowledge the guest and highlighted on importance of parent's support and said: " the biggest challenge in running the school was the parents of its students; for being ignorant about their child or school's activities." He added: " Parents must visit the school at least once in a month, to see for themselves, what in reality their children are learning and not just to send them off to school".

He also expresses special gratitude to Dr. Namgyal for being an advisor and for his guidance, along with thanking Drukpa Trust in London, numbers of domestic and foreigner for their support and also the guests for their time.

Kindergarten students performance was followed by Bihu Dance, an Assamese dance; Bangra, a Punjabi dance; Lahuli dance, from Himachal and Dhandiya, a Gujrati dance by four houses respectively.

Shomic Das, Consultant for the school in his words said:" if I had to rate the school with today's performance; it would be 110% out of 100". He also addresses the parents to be more engaging in their child's activity.

Drukpa Trust London's representative: Rachel, wishes the best for the management of school in fulfillment of providing good education and the students in realizing their potential.

Last speech for the occasion saw Chief Guest, RP, addressing the gathering. He spoke high of the school in accomplishing so much in just 13 years. He stressed on importance of 'Behavioral Education' than to simply focus on academic results. Preservation and imbibing native languages are also what he spoke at length about.

Program concluded with Tsetan Yandol, Sr. Coordinator, presenting her notes of thanks, trailed by lunch for the guest at School's dining hall.