Pedestrian-friendly road worth ₹1.45 crore inaugurated in Changspa
By
Reach Ladakh Correspondent
Leh, Jul 18, 2019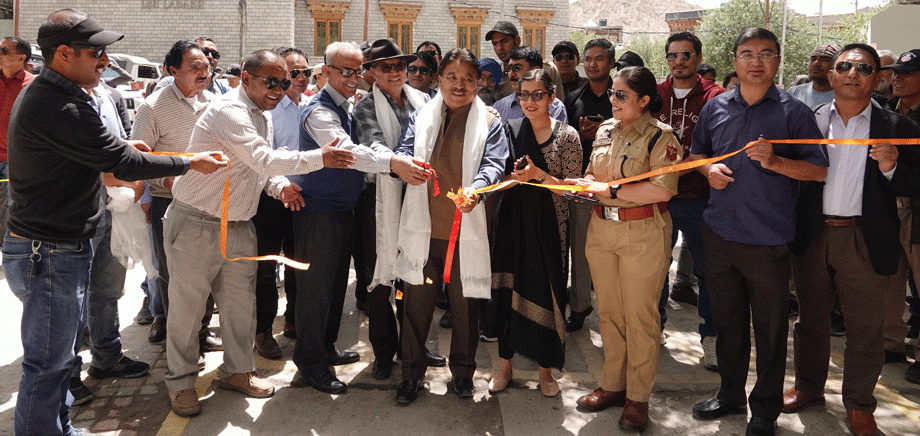 Leh :
A pedestrian friendly half kilometer Changspa road worth ₹1.45 crore was inaugurated by Gyal P Wangyal, CEC in presence of Avny Lavasa, DC and  Dr. Ishey Namgyal, President, Municipal Committee, Leh on July 16.
The road was facelift under Urban Infrastructure Development Scheme for Small & Medium Town (UIDSSMT).
Gyal P Wangyal said that this road is first of its kind in Leh district which has been developed in a pedestrian-friendly because of the heavy tourist traffic in the area.  This will further help to boost tourism in the area. He appreciated the engineers for well-thought road design and execution.
Avny Lavasa said that it has come up as a pilot road on tourism point of view and can be replicated on other roads if it works.
"We have to observe as to how the people respond to it and have to take care that local people should not feel any kind of inconvenience", she added.
Dr. Ishey Namgyal said that the road having both side footpaths and one-way traffic would be a safer road mainly for the school children and elder persons. Also, adding better look to Leh town.
Sargun Shukla, SSP, Leh, Moses Kunzang, Additional District Development Commissioner, Leh, Superintendent Engineer, PWD, Deldan Gawa Otsal, Municipal Committee Ward Member Changspa, district officers and engineers of PWD were present.