Over 85 documentary films screened at 3-day Kargil International Film Festival
By
Sajjad Hussain
Kargil, Sep 02, 2017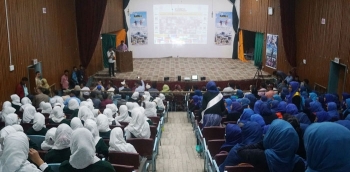 Kargil :
More than 85 documentary films from 29 different countries screened in three days long Kargil International Film Festival (KIFF) on August 21 to 23 at Syed Mehdi Auditorium Hall, Kargil.
The Festival was organised by DBG Films Mumbai in Collaboration with LAHDC, Kargil and Student Educational Movement of Kargil (SEMOK).
In the International and National category, 21 awards in four sections which included "Best feature film", "Best short film", "Best documentary film" & "Best animation film" both were presented.
Golden Ibex award was introduced this year to honor film makers who have done exceptional work in their story telling with their limited resources and have experimented with the art of film-making in unique ways.
Haji Anayat Ali, Chairman J&K Legislative Council inaugurated the film festival and started with the screening of 'Tune of Hope' documentary.
Stressing on the need to make Kargil open for film makers whether for commercial or for social, Haji Anayat Ali said that such events provide opportunities to the people of Kargil and also promote tourism for better economy and employment.
Taking note of the condition of Syed Mehdi Memorial Auditorium Hall he directed District Information Officer to prepare a DPR for its renovation and up-gradation as soon as possible.
The Golden Ibex award winner films were, There's Always Tomorrow by Shilpa Krishnan Shukla (Singapore), Sentience by S.J. Van Breda (Canada) & Irony by Radheya Jegatheva (Australia).
Recoil by Anastasia Yaroslavna (Ukraine) won the best film of the festival and YAQ Distribucio from Spain won the Best film distribution company award.
Meraj Sidiqui, Director of the Festival said that the festival is aimed to change the image of Kargil as a war zone but to highlight the beautiful culture, tradition and ethnicity of the district to the world.
He said that it's overwhelming to see the positive responses from the people and hope to be continuing in future also.
Mohammad Sadiq, Representative, Students' Educational Movement said, "Kargil is a locked region for the outside cinema and we will try to unlock this region."
Sajjad Kargili, KIFF coordinator expressed his gratitude to DBG film club, LAHDC and SEMOK  for making the festival successful.
 "Cinema means a lot for Kargil as we are the people who remain disconnected with the world for months and this medium will bridge us with the outside world", he added.  
People from different walks of life took part in the festival. National and International films were screened. 
Other films that won awards were, House of Norway (Norway) – Best feature film (International section), Akkammana Bhagya (Karnataka) – Best feature film (National section), 17 Years together (Spain) – Best short film (International section), Cup of Tea (Mumbai) – Best short film (National section), Our Temple our Town (Andhra Pradesh) – Best documentary film (National section), Moonlight Princess (Israel) – Best documentary film (International section). Light sight (Iran) – Best Animation film.
DBG Film club also proposed a plan to the committee in which it requested to hold a 7-day film workshop for the enthusiast of the region which will give them hands on experience to know the fine nuances in the art of filmmaking. 
Certificates were distributed to volunteers and organizers.