New Book, 'Plants of Ladakh: A Photographic Guide', released
By
Reach Ladakh Correspondent
Leh, Jul 09, 2021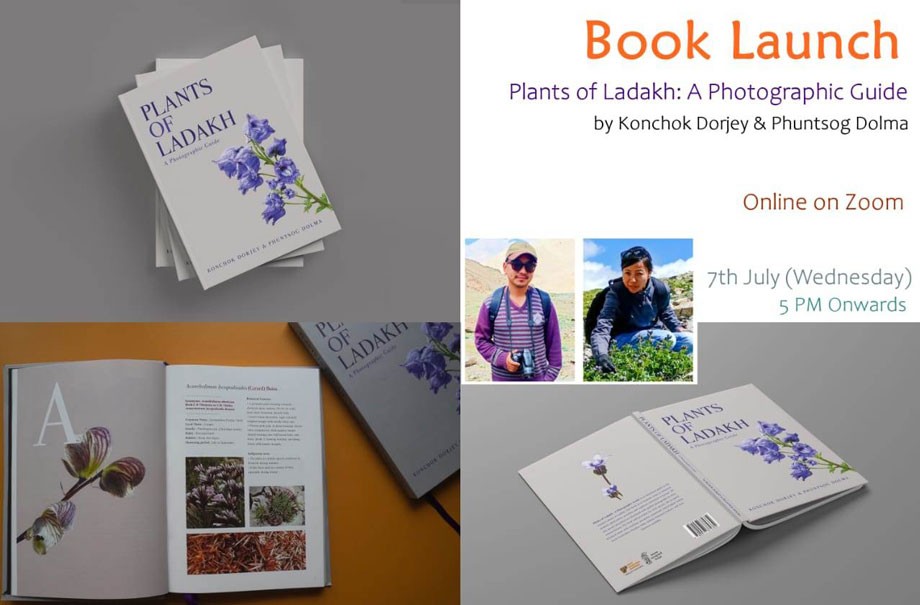 Leh :
A book titled, 'Plants of Ladakh: A Photographic Guide' by Konchok Dorjey and Phuntsog Dolma was released by Stanzin Chospel, EC Agriculture, LAHDC, Leh virtually on July 7.
The book provides a glimpse into the lives of 193 species of plants and a handful of mushroom species found in Ladakh. The authors took over two years to complete the fieldwork, visited remote places to document and study the species that they have compiled in the book.
Stanzin Chospel, EC Agriculture, LAHDC, Leh congratulated the authors for bringing up such a book. He said that it is a matter of pride for the people of Ladakh that two local authors have produced such a brilliant book with such dedicated efforts. He further encouraged the authors to keep the book in libraries and stresses further use of the book during nature walks for school and college students.
Phuntsog Dolma narrated three stories from the field surveys in Ladakh which the authors had carried out to study the floral species in detail. 
Ajay Bijoor from Nature Conservation Foundation (NCF), who are the publishers of this book congratulated the authors and the spirit of the people of Ladakh to bring up and support such a book. 
Around 85 people attended the online event. The audience put forward their suggestions and comments and congratulated the authors for their effort. 
The author, Dr Konchok Dorjey is a botanist, mycologist and teacher. He is presently working as Assistant Professor of Botany at Eliezer Joldan Memorial College Leh, University of Ladakh. He has completed PhD in Botany from the University of Jammu in the year 2014, qualified CSIR NET-JRF in Life-Science twice. He has authored more than 13 research papers and 7 articles on Ethnobotany, Ethnomycology and Fungal Diversity of Ladakh. He is also the recipient of the InSc Research Excellence Award 2020. Phuntsog Dolma is a plant enthusiast, presently working as Flock Supervisor in District Sheep Husbandry Department Leh. Earlier, she has worked at Nature Conservation Foundation Ladakh for more than three years. She is awarded Sanctuary Asia's Muds on Boots project 2021 for her work.