National SC-ST state conclave held in Leh
To encourage micro, small, medium enterprises in Ladakh
By
Kunzang Chosdol
LEH, Jun 16, 2018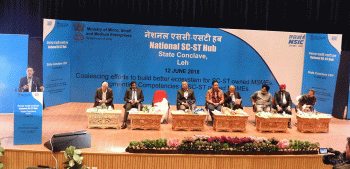 LEH :
Focusing on coalescing efforts towards creating a supportive ecosystem for inclusive growth of SC-ST Entrepreneurs, National SC-ST Hub (NSSH) state conclave was organised on June 12 at Sindhu Sanskriti Kendra, Leh.
The day was organised by National Small Industries Corporation (NSIC) under the Ministry of Micro, Small and Medium Enterprises Govt. of India in collaboration with Forum of SC & ST Legislators & Parliamentarians.
Hundreds of students, army personnel were present on the occasion.
The chief guest, Choudhary Zulfikar Ali, Minister for School Education, Haj & Auqaf and Tribal Affairs spoke about the unacceptable condition of Schedule Caste and Schedule Tribe community in the country since independent with no improvement in their social status despite constitutional reforms and acts.
He said that social stigma and lack of political will have been the reasons for SC/STs not getting connected to the mainstream.
He urged National Small Industries Corporation to ensure awareness on National SC/ST Hub scheme among aspiring entrepreneurs in every corner of the country to achieve the targeted result.
Dr. P.G.S Rao, Director, Ministry of Micro, Small and Medium Enterprises said, "National SC-ST Hub aims to create a supportive ecosystem for SC/ST entrepreneurs by assisting them in capacity building. Thereby, enabling them to effectively participate in the public procurement process. The scheme is organically linked to the Public procurement policy, 2012 of the Govt. of India which states that 20% of total procurement of goods and services by central ministries, departments and Central Public Sector Enterprises shall be made from MSEs and 20% of such procurement (4% of total) from MSEs shall be made from SC&ST owned MSEs."
He asked the SC-ST people to register under Udyog Adhaar Memorandum through which the entrepreneurs can get all kind of benefit under NSSH.
He further added that there are four schemes under NSSH. The Mudra loan in which ₹50 thousand to ₹10 lakh loan can avail, PMEGP, ₹25 Lakh with 35% subsidy, Stand-Up India, ₹1 Crore and Credit Guarantee fund scheme in which ₹2 crores loan can be availed. All loans can get without collateral in the banks. The entrepreneur will get the facilities including procurement of raw material, finance, marketing and upgrading the business etc.
Terming it as the right time to focus on MSME, Chering Dorje, Minister for Cooperative and Ladakh Affairs informed that by end of this year Ladakh will get connected to Northern Grid which will solve the power related problems and open promising avenues by the young entrepreneurs to start any enterprise in the district.
Stressing upon the need to develop entrepreneurship among youths, Nawang Rigzin Jora, MLA, Leh said that Government job is very limited to get for all youths and stressed on the need to develop skills to excel in business enterprises.
Inder Iqbal Singh Atwal, President, National Forum of SC-ST legislators and Parliamentarians said, "Ladakh has lots of potential in many fields which need to be developed by the younger generation. The products of Ladakh should go to every corner of the world through the entrepreneurs from Ladakh itself."
The National SC/ST Hub Leh directory of MSMEs was also unveiled on the occasion.