Naropa festival 2019 celebrated with pomp and gaiety
By
Stanzin Dasal
Leh, Sep 17, 2019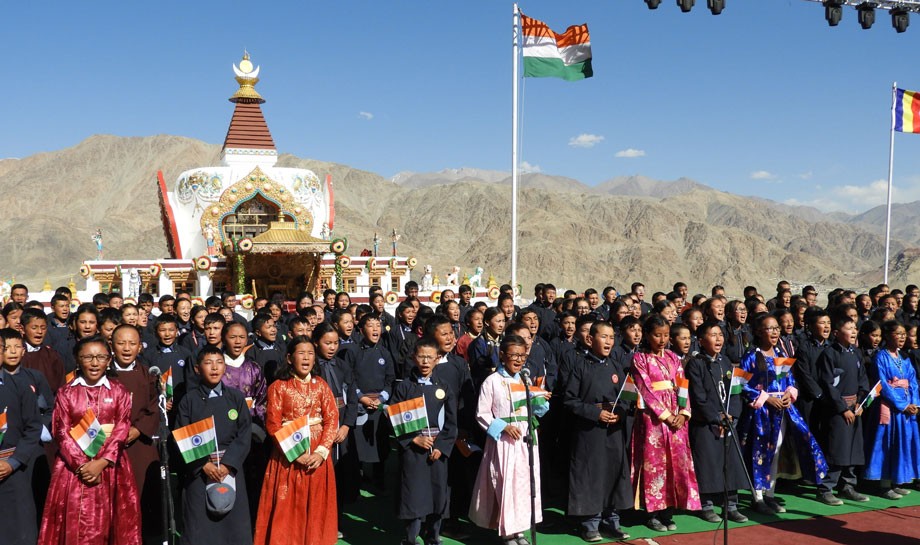 Leh :
Bringing together people from all parts of the world, the four days long annual Naropa Festival 2019 themed 'Environmental sustainability of Ladakh and the Himalayan region' commenced on September 16.
Initiating towards zero waste, various steps have been implemented during the festival such as avoiding single-use plastic, reusable utensils and water bottles for all VIPs and participants, spreading awareness of the eco-cultural initiatives in the Ladakhi region through a panel discussion with emerging entrepreneurs and many more.
Anurag Thakur, Minister of State for Finance and Corporate Affairs, chief guest hoisted the national flag and officially commenced the celebration.
He expressed his happiness to be part of the Naropa festival celebration which rejoices the life of the famous Buddhist philosopher and teacher – Naropa.
 
He said UT Ladakh has come directly under centre government, thus the fund flow will also come straight from Delhi to ensure proper development in the region. He said that Prime Minister Modi has a special concern for the people of Ladakh and J&K and is fully committed to serve these regions providing best of everything in coming times.
 
The Minister said that he himself hailing from the mountain region of Himachal Pradesh can empathize with the difficulties faced by Ladakhis and committed to accompany MP Ladakh in raising voice equally for the betterment of Ladakhi people in terms of development and protection of their rights, identity, culture, art, and language. 
 
Talking about upgrading connectivity facility to Ladakh region, he mentioned about the commencement of railway works from Bilaspur to Leh with the initial release of ₹ 500 crore and survey of around 40 kilometers being done. He said that work on the Manali-Rohtang tunnel is under progress and also informed re-tendering of Zojila tunnel will be done soon to resume the project.
Anurag Thakur also announced to open a Cricket Academy in Leh and to provide coaches to train the local children. He also committed for a tie-up with HP Cricket Association, Dharamshala and offer training programs to Ladakhi cricketers. 
 
He stressed on the need to start a cultural exchange and sports activity programs between HP and Ladakh. He assured full financial assistance for infrastructure and other developmental works. 
Welcoming everyone, His Eminence Thuksey Rinpoche, Chairman, Naropa Festival Organizing Committee talked about major highlights of the festival. This year Naropa festival also marks the celebration of UT status for Ladakh. 
His Eminence focuses on the need to act upon growing environmental concern and issues. He said that this year the organising committee of the festival put on every effort to reduce the use of plastics. 
Also, this year focus is made on a local artist to perform during the festival. 
"The festival also aims to provide a platform to the talented youth of Ladakh and other Himalayan regions. Through this festival we spread across the message of gender equality, environmental awareness, and sustainable development", His Eminence added.
Ladakh Eco-cycling club was also launched during the day. 
Khenpo Tandin Sithup, Representative of His Holiness Je Khenpo, Spiritual head of the kingdom of Bhutan, Lorenzo Angeloni, Italian Ambassador to India, Major General Chris Sunday Eze, High Commissioner- Designate of the Republic of Nigeria and many other Rinpoches and dignitaries were present during the occasion.