Mobile animal birth control clinic inaugurated in Leh
By
Reach Ladakh Correspondent
Leh, Jul 04, 2019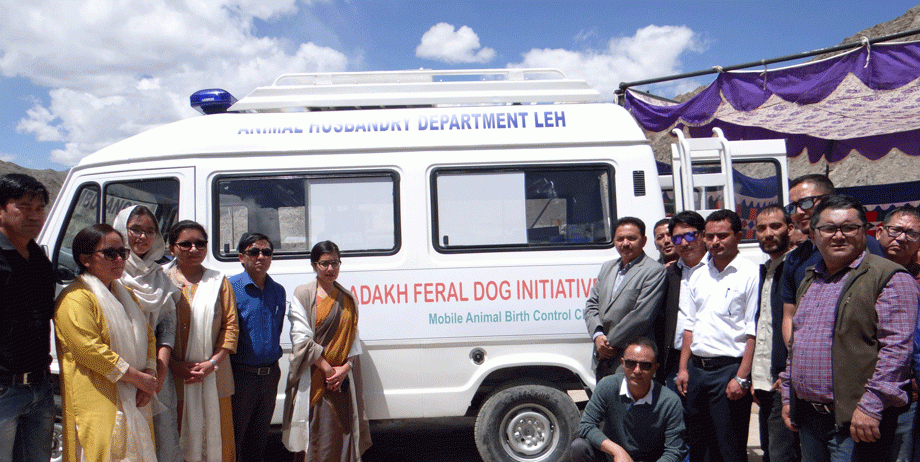 Leh :
 Under Ladakh Feral Dog Initiative (LFDI), a mobile animal birth control clinic was inaugurated by  Avny Lavasa,  Deputy Commissioner in Leh on July 1. 
Dr. Mohd. Iqbal, Chief Animal Husbandry Department, Dr. Stanzin Rabgais, Executive Officer MC Leh Razdan, doctors and staff members were also present on this inaugural occasion.
DC Avny Lavasa congratulated the Department for launching the new ambulance in the city. She also appreciated the ongoing project of stray dog sterilization being carried out in collaboration with Live to Rescue and Municipal Committee Leh. 
She gave directions for weekly report and review about the sterilization of stray dogs.  Keeping in mind the difficulties being faced to catch stray dogs for sterilization, Lavasa directed MC Leh to increase manpower and provide an extra vehicle for the purpose. 
She also suggested to the ward members and people of Leh city to cooperate with the stakeholders for the safety and security of stray dogs.
Dr. Mohd Iqbal updated DC Lavasa that launch of this mobile clinic serves to the welfare of Leh city and its neighbouring area. He also mentioned that the introduction of this ambulance will help in the swiftness of sterilization and reduce time. He also said that a minimum of 25 dogs will be sterilized per day with the help of increased manpower. 
Dr. Iqbal also pointed out the need of bore-well and rising of fencing wall at the centre to strengthen the procedure of sterilization.
DC gave directions to the concerned officers and officials to work hard and update her on a weekly basis until their next meeting.