Mini conclave of J &K Investors Summit 2019 held in Leh
By
Reach Ladakh Correspondent
Leh, Sep 07, 2019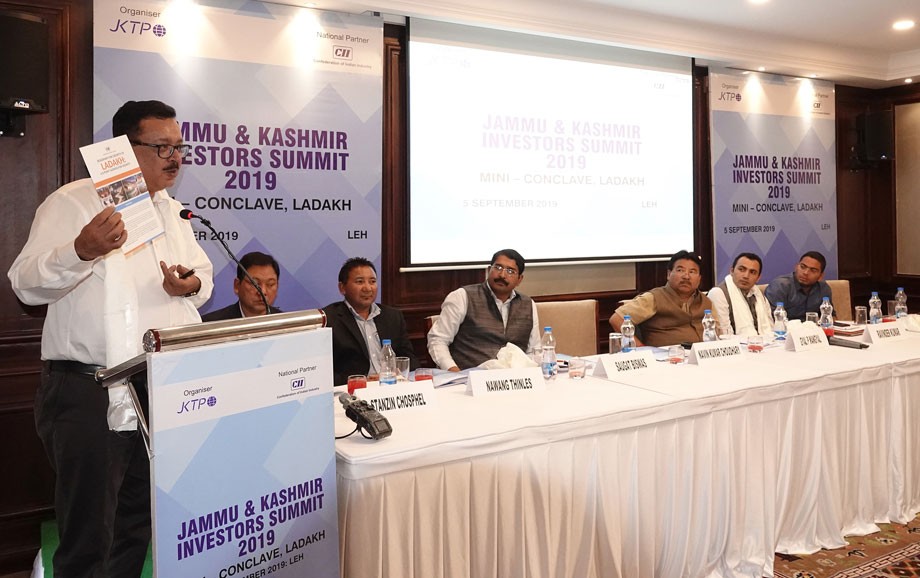 Leh :
To promote industrialization and attract investments in the state, Government of J&K is organiSing its maiden Global Investors' Summit, 2019 "Invest Jammu & Kashmir". 
Starting with it,  Ladakh Mini Conclave was held on September 5.
Young local entrepreneurs, members of ALTOA, Trade Association, representatives from NGOs and senior businessmen took part in the conclave.    
Gyal Wangyal, CEC expressed that with the scrapping of Article 370, the restricted industrial growth and development will touch new heights. He said that abrogation of Article 370 was an important step particularly for the people engaged in large and small scale industrial businesses in the state. 
He added that trade is vital for growth, development, and jobs. He urged CII and Navin Choudhary, in particular, to organise a mega conclave in Ladakh to ensure maximum participation of young entrepreneurs from Leh and Kargil.
He also stressed on the need to find the right mix of policies that optimizes trade's contribution to the social and economic development of UT of J&K and Ladakh. 
He further added that such conclave will provide opportunity to showcase the strengths and potential of the region, besides giving first hand information about business friendly policies of the government, assess infrastructure, natural resources, raw material, availability of skilled and unskilled manpower, to identify new business avenues in state and to develop networking between local and outside business communities. 
He highlighted the potential of white kernel apricot, Pashmina etc as the most promising business ventures in Leh.  
Navin Choudhary, Principal Secretary, Industries & Commerce, J&K Govt said that J&K has been deprived of industrial and economic development. He asserted that political development must facilitate economic development and improved industrial and service sector will help people of Jammu, Kashmir and Ladakh realize their dream.
He stressed on the possibilities to explore the potential of tourism and service sectors in Leh and said that power could be the biggest revenue generation sector for Ladakh.
 
On the demand of CEC, he gave full assurance to provide the funds to around 70 young entrepreneurs in Leh under JKEDI that was pending in the next 10 days. He also assured to consider reducing the premium charged by SITCO in Ladakh. 
He further stressed on the need to draft master plan of Leh and Kargil and to have their own policies in tourism, industrial and service sectors considering the local requirement and geographic and environmental feasibility. 
He instructed both the DC's of Leh and Kargil to conduct a full-day seminar in next 10 days of young entrepreneurs and other stakeholders to debate on the kind of investors required from outside in the districts and submit the detail list of suggestions and requirements to him at the earliest possible.
 
Sachin Kumar, DC, Leh said that cultural attitude, lack of infrastructure, skill gaps and remoteness from the market is the current obstacle for business creation in Ladakh. Keeping in mind with the numbers of opportunities he agreed with the 8 points agenda for growth being published by CII and expressed hopes to reduce the obstacles so that industry can thrive in this remote region of Ladakh.  
Baseer ul Haq Choudhary, DC, Kargil, Mehmood, Director Industries, Commerce and Tourism, J&K and Nawang Thinles, Zonal Chairman, CII Ladakh Zonal Council also spoke on the occasion.