Meeting held for Pashmina branding programme in Leh
By
Reach Ladakh Correspondent
Leh, Jul 29, 2019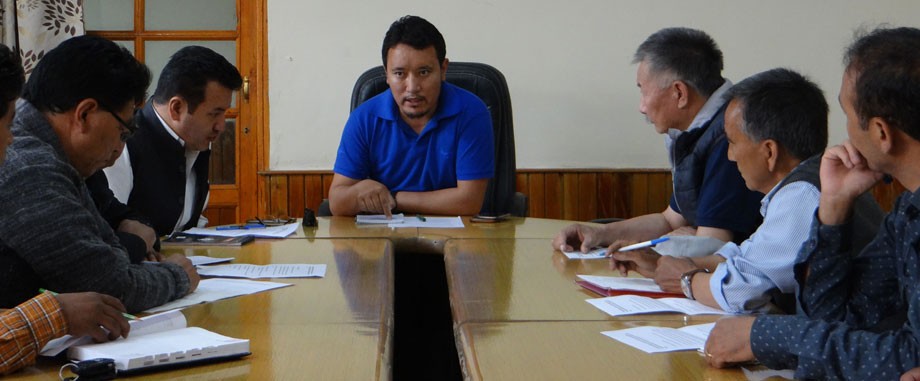 Leh :
Officials from Bureau of Indian Standards and Directorate of Industries & Commerce J&K schedule to visit Leh on August 2 for Pashmina branding programme. The programme will be organised by Hill Council in collaboration with the Bureau of Indian Standards at CIBS auditorium hall.
Regarding which, a meeting was convened by Konchok Stanzin, EC with the concern stakeholders and district officers on July 27 at Council Secretariat, Leh.
Konchok Stanzin said that Pashmina grown in Ladakh is one of the finest qualities in the world in terms of microns. He said that getting the product registered and branded under the Bureau of Indian Standards would give a new fillip to Pashmina business in Ladakh.  This will pave the way for value addition thus, improving the living standard of Pashmina growers and ensure the livelihood of their future generations.
He stressed the role of Handicraft and Handloom department in providing skill development and value addition of Pashmina. He urged the concerned officers to think seriously and differently to promote Ladakh Pashmina and emphasized on the need to make comprehensive project region-wise considering the potentials. 
Also, he felt the need to have a road map to promote Ladakh Pashmina and urged the officers to form a committee of scientists and experts to develop a policy draft in this direction.
Discussion on the need to strengthen the Pashmina Growers Society to make them sustainable in long run, to provide them with an adequate revolving fund, ensures the maintenance grant to keep the machines in running condition and to upgrade from dehairing to the production of the end product to take Ladakh Pashmina to a stable and renowned the position was also carried out.
A team of 30 bikers flagged off by JTN, MP Ladakh from Delhi on July 26 to Leh will also join the program. The bikers will reach Leh on August 1 via Manali and enroute they will tour Nyoma and Durbuk blocks to interact with Pashmina breeders and get feedback from them.