Leh students organise rally on environment protection
Demands executive councillor for environment in Hill Council, Leh
By
Dawa Dolma & Rigzin Wangmo
Leh, May 24, 2019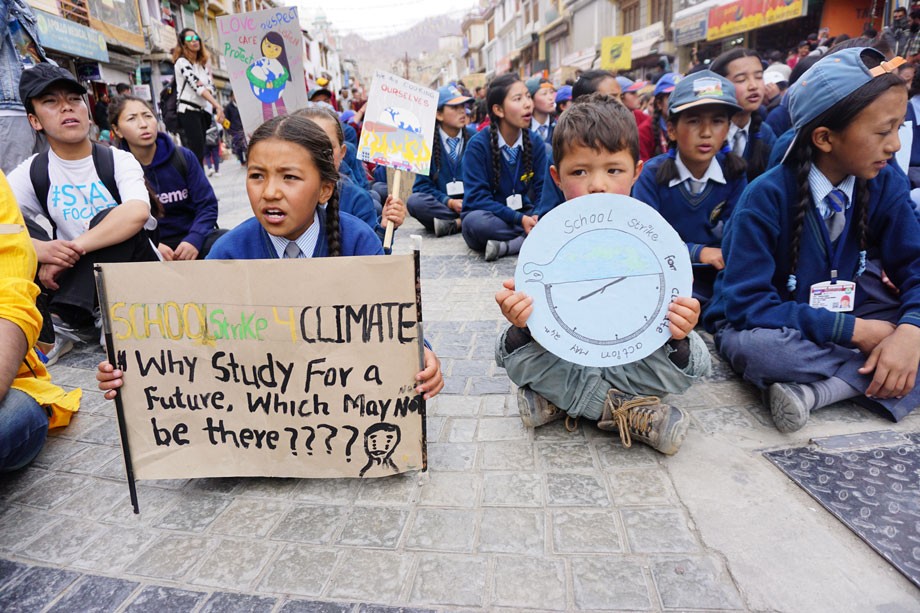 Leh :
The global issue of climate change needs a global solution and to protect environment students of Leh organised a peaceful rally from NDS ground till main market Leh on May 24.
The aim of the rally was to raise awareness on climate change and global warming. Also, demands a separate executive councillor for the environment in Hill Council, Leh.
The rally was organised by the students of Leh inspired by young girl Greta Thunberg from Sweden who skip her school every Friday and was out on street with a placard in her hand urging world leaders to unite and save the environment.
Kunchok Namdol, President, Ladakh Drayangs Association urged the political leaders for immediate actions and find viable solutions to combat the environmental crisis. He said, "If the earth remains no longer, there is no future for children." 
Stressing on the need to secure future, he requested locals to minimise the use of plastic especially single-use plastics like water bottle, straws, and cups. Also, urged the government to implement proper waste management systems and install recycling stations instead of dumping in landfills.
Rigzin Dorjay, President, Student Organization of Unified Ladakh stressed on existential issue of climate change and its impact on locals' life. Unfortunately, there is no initiate from locals in promoting sustainable development and saving the environment. 
He expressed gratitude to non-locals and foreigners to take part in the rally but was ashamed that no locals participated. He also thanked Avny Lavasa, DC for extending support in this matter.
A copy of memorandum demanding Executive councillor for the environment, promotion of eco-tourism and limited tourists, banning of plastic bags, and green day in Ladakh every Friday was also submitted to the DC.
Julia Bergmann, a Swedish participant in the rally emphasized on taking a stand and voicing against the man-made catastrophic as it is lacked among the people of Leh.
Slogans like save the future-save the children, say no to plastic, save the environment were raised.