Leh protest against BJP's Ashok Kaul remarks on call to boycott hill council polls
Apex Body of People's Movement for Sixth Schedule seeks apology from Kaul
By
Stanzin Dasal
Leh, Sep 25, 2020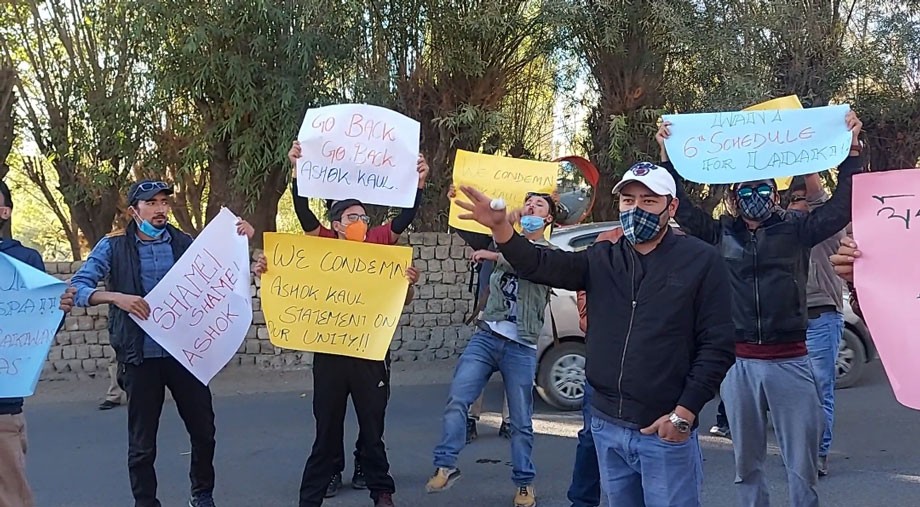 Leh :
Leh remained shut down for half-day to protest against the remarks made by the senior BJP leader Ashok Kaul on the Apex body decision of boycotting 6th LAHDC, Leh election on September 24. 
The Apex body of Peoples movement for the sixth schedule for Ladakh unanimously resolved to boycott the ensuing 6th LAHDC, Leh election on September 22. They said that the election will be boycotted till such time the constitutional safeguard under the sixth schedule on the lines of the Bodo Territorial council is not extended to UT Ladakh and its people. 
The resolution to boycott the election was also signed by the BJP district President, Nawang Samstan. 
However, the BJP General Secretary, J&K unit, Ashok Kaul termed the apex body resolution "bakwas". In an interview with The Print he said, "This resolution means nothing. Yeh Sab Bakwas hai. We are going to Leh soon to talk to our people and we will fix everything."
Thupstan Chhewang, Former MP said, "The statement of Ashok Kaul has hurted the sentiments of all the people of Ladakh and he must take his word back and apologize to the people of Ladakh."
Condemning the remarks, students and youths of Leh district took out a protest rally, seeking an apology from Ashok Kaul.
Jigmet Paljor, student leader said the rally is organised in a very peaceful manner following all the measures and SOP's of COVID-19. 
"We strongly condemn the irresponsible statement of Ashok Kaul made with an intention to break the unity of Ladakh. He should apologize for it", he added. 
Konchok Eshey Stak, President, LBA Youth wing said, "Decision for Ladakh will be made only by the local people and its leaders. No one from outside should interfere in our internal matters. Ashok Kaul has hurt the sentiments of the people and he should apologies for his irresponsible statement."
BJP's Ashok Kaul and Ram Madhav are in Leh and conducting several meetings with the BJP party Leh unit leaders and workers.