Late Rupert Wilmot's photographic account exhibited at LAMO
Launches the book 'The Lost World of Ladakh'
By
Fatima Ashraf Barcha
Leh, Jul 28, 2015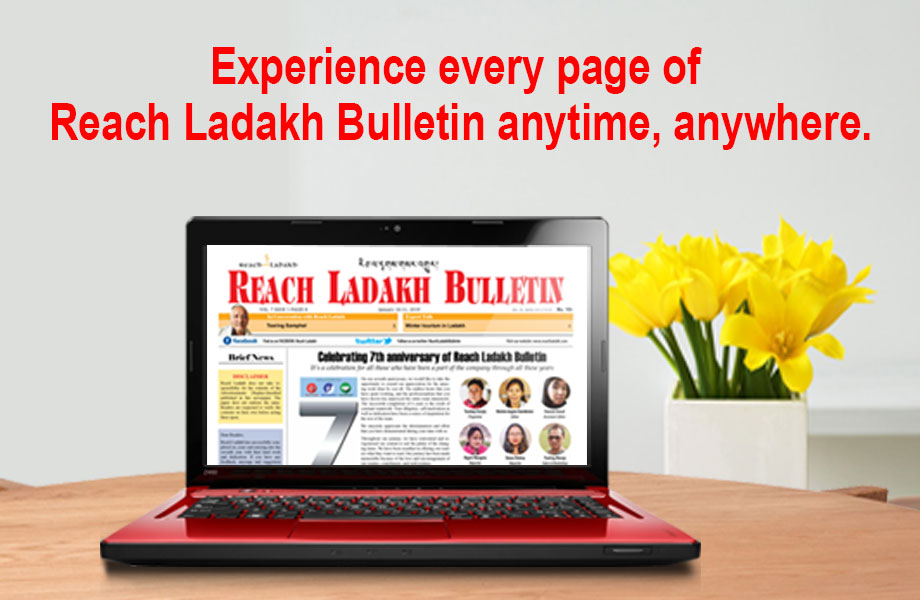 Leh :
An exhibition Two Journeys- A photographic account of Rupert Wilmot's travel to Ladakh in the 1930s was open to public on 23rd July till 11th September at Ladakh Arts and Media Organization.
Rev. Dechen Chamgha was the Chief Guest on the occasion. Nicky Harman and Roger Bates, the niece and nephew of Rupert Wilmot, who are the custodians of these records, were also present at the opening of the exhibition. Abdul Ghani Sheikh and Khenpo Konchok Rangdol had also graced the event.
Monisha Ahmad in her welcome speech spoke about LAMO's involvement with Nicky and Roger's project of documenting their Uncle Rupert Wilmot's collection of photos. She said that they will be including these exhibits in their visual Archive project which also consists of old paintings and maps of Ladakh that they have obtained from other sources. She said that with these initiatives they aim to make these valuable visual records available for the people of Ladakh and inspire the future generation photographers of the region. She also mentioned Namgyal Angmo contribution as a researcher in their project for documenting the photos of Rupert Wilmot.
Rev. Dechen Chamgha who owned a photo studio back in 1977 in his speech spoke about his years of experiences as a self-taught photographer in Ladakh. He spoke about Late Sayyid Ali Shah and also mentioned Michel Freeman's handbook that were the inspiration and guide in his works as a photographer. He praised the works of Late Rupert Wilmot whose pictures he said have the excellent composition. He thanked Nicky and Roger for having brought these valuable photos back to Ladakh.
The opening of the exhibition was followed by Roger Bates and Nicky Herman giving a presentation on the photo collection of Rupert Wilmot that has also been converted into a book "The Lost World of Ladakh-Early Photographic Journeys in Indian Himalaya 1931-1934." They said that because their uncle Rupert Wilmot had not left any detail written records about the photos it took them three years of intensive research like decoding the photos to materialize the collection into a book. The presentation was about Wilmot's journey to Ladakh, his methods of photography visible from the way he had captured the people, landscape, and monasteries. They also mentioned that Rupert Wilmot had sent some of his photos to newspapers like Statesmen (India) and Country Life (UK) when he was alive which were also published. Of the 300 images that survive the book constitute 150 selected photos.
The book "The Lost World of Ladakh-Early Photographic Journeys in Indian Himalaya 1931-1934" published by Stawa publications was launched on the event. In the end, Nicky and Roger thanked Khenpo Konchok Rangdol for having supported them in converting the photographic records into a book. They also thanked Rev Dechen Chamgha, Namgyal Angmo, LAMO, Stawa Publications for their support and assistance in the research and publishing of the book.
Claude Rupert Trench Wilmot (1897-1962) was a career officer in the British Army who served in India for fifteen years between the first and second World Wars. In 1931 and 1934 Wilmot made two journeys into Ladakh one from Srinagar to Leh route and from the Kullu Valley to Leh. He made both the journeys on foot using local guides. Out of the numerous photographs, he took only 300 survive as contact prints. His photos are intensely personal, presenting the people he encountered in a natural and un-posed manner. The images record a way of life that has all but disappeared from Ladakh. Nicky Harman (niece) and Roger Bates (nephew) of Rupert Wilmot having realized the importance of these photographs for the people of Ladakh made it available to the public in the form of a book and have also handed the entire collection of the photos to the visual archives of LAMO.