Lamdon dedicates newly-built hall in memory of KG Bakula
Expresses gratitude to the late Rinpoche for providing land for establishing the school complex
By
Reach Ladakh Correspondent
LEH, Jul 14, 2018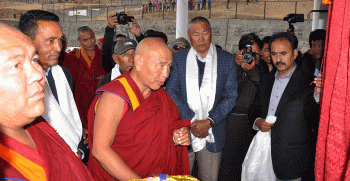 LEH :
A newly built multipurpose hall in memory of 19th Kushok Bakula Rinpoche was inaugurated on June 29 at Lamdon School, Leh.
Lamdon expressed gratitude to the great leader of Ladakh Kushok Bakula Rinpoche for providing land to establish the entire school complex.
His Eminence Jhado Rinpoche termed Bakula Rinpoche as a great spiritual leader and a tall philosopher having broad knowledge in Buddhist medicines and astrology too.
His Eminence said, "Dedicating this beautiful hall in memory of KG Bakula is a true tribute to the departed spiritual leader".
Highlighting the great contributions of Kushok Bakula in the field of education particularly for Lamdon School, Ishey Tundup, Principal said, "The land for Lamdon has been offered by Bakula Rinpoche to move forward on the path of quality education. And today the alumni of this school have excelled in various fields serving at all levels because of Kushok Bakula's blessing."
Nawang Rigzin Jora termed Lamdon as an unparalleled school, fully dedicated to the society with all the values and qualities of education. He made a special mention of visionary works of Ishey Tundup that has taken Lamdon at the highest educational level in the region and given so many high stature officers and workers to the society.
Chering Dorjey mentioning the year's long KG Bakula centenary celebration said that it has vastly helped younger generations of Ladakh to know about Bakula Rinpoche and his supreme contributions to the people.
Ven. Wangchuk Khamba and Gyal P Wangyal, EC Health also spoke on the occasion.
Heads of religious, social and political organization and prominent personalities, members of Lamdon Social Welfare Society, teaching fraternity and students attended the event.
A cultural show and a slide show based on the journey of Lamdon school was also screened.