"Ladakh Heritage Committee: a need of an hour"
A Workshop on Values of Cultural Heritage of Ladakh
By
Tenzin Menkyi
Leh, Oct 01, 2014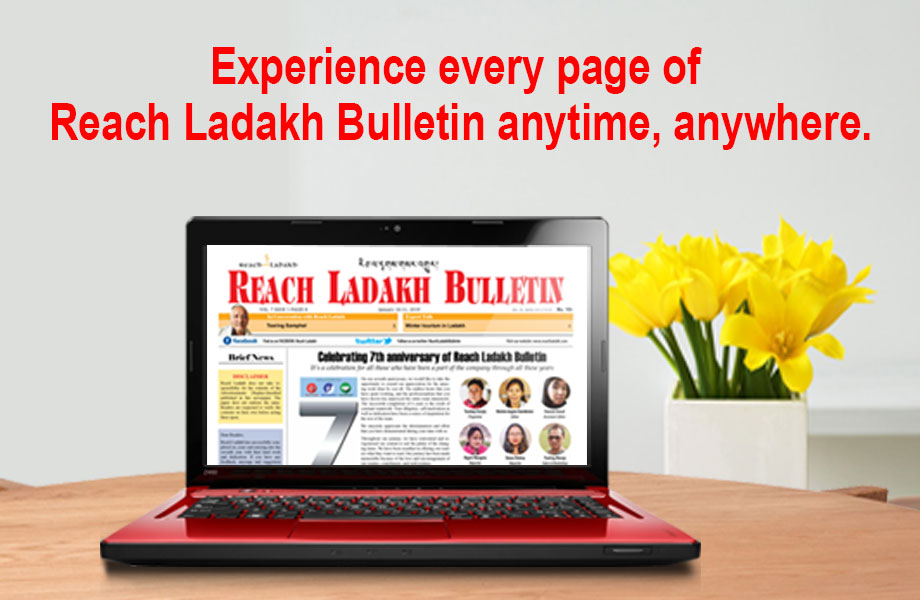 Leh :
Himalayan Culture Heritage Foundation (HCHF) in collaboration with Achi Association India has organized a day-long workshop on 'Value of Culture Heritage' for the people of Ladakh involved in different organizations working in the field of cultural preservation of Ladakh, which includes the members from various village's committee and representatives from different Panchayat assembly. The workshop, held on September 21 at Lonpo House, below Leh Palace, aimed to be more of an interaction session between both the participant and scholars with frequent pauses for Q &A sessions, instead of usual one-way information flow from scholars, has made the day interactive.

To learn the values of culture heritage from the experts and to hold discussion on several important issue related to cultural heritages of Ladakh, such as: challenges of preserving cultural heritages; the role of NGOs and village's committee; LAHDC's plan & approach to cultural preservation; community's involvement in sustainable development; need of a heritage committee in Ladakh to preserve its cultural heritages, etc were the main purpose behind holding the workshop.

Prof. Geshe Konchok Wangdu spoke on Buddhist view on conservation of cultural heritage. Ladakh's Historian, Abdul Ghani Sheik briefed about Ladakh's relationship with neighboring regions and their influences on Ladakhi culture. Sonam Tsering, a councilor, LAHDC shared about the role of LAHDC in preserving cultural heritages of Ladakh. Tashi Morup, Program Director, LAMO talked on topic: Community's Involvement in Sustainable Development. Khenpo Konchok Phandey shared his view on importance of local language in preservation of cultural heritage and finally, Dr. Sonam Wangchuk and Prof. Tashi Dawa Tsangspa proposed their opinion and spoke at length on establishment of a Heritage Committee, which is deemed as the need of the hour in Ladakh.

A lunch and tea were served for all the participant as Dr. Sonam Wangchuk says:" both the organizations has spend money from their own pocket to host the attendees well".

HCHF is a registered society working for the promotion and conservation of the cultural heritage of the Himalayas. This non-governmental organization is devoted to revival of endangered and dying traditional knowledge through multi level trainings and program to create linkages with contemporary communities' needs and advancing role of folk traditions such as music, dance, theater, oral recitals, festivals etc which reflects and promotes legacy of Himalayas. Dr. Sonam Wanchuk founded the organization in 2009, along with group of local scholars and interested social workers.

The Achi Association is a private non-profit organization based in Switzerland, founded in 1999 by people dedicated to the preservation of Buddhist heritage and scholars specialized in the early art and architecture of the Western Himalayas. It aims to contribute to safeguard the outstanding yet endangered cultural heritages in the Himalayas.

The need of formation of 'Ladakh Heritage Committee' was the highlight of the event and entire participant including the invited resource personnel nodded to the decision. "Advent of modernization and rapid growth of physical structure of Ladakh has overlooked olden structures like stupas, monasteries, mosques, traditional arts and architecture, lhato, forts, rock carving etc, thus hammers the cultural heritages of Ladakh by either demolishing the ancient features or simply neglecting or not understanding its values yet. Therefore, a committee with an authority to stop such unintelligent act and to promote olden traditions and heritages is the need of the hour" reiterated the founder of HCHF, Dr Sonam Wangchuk. His yearnings and determination to safeguard the heritages of Ladakh has him voluntarily accepted many responsibilities and challenges lying ahead while everyone applauding him and his associates' intentions.