Ladakh Cycling Club organises bicycle rally in Leh
By
Reach Ladakh Correspondent
Leh, Aug 15, 2020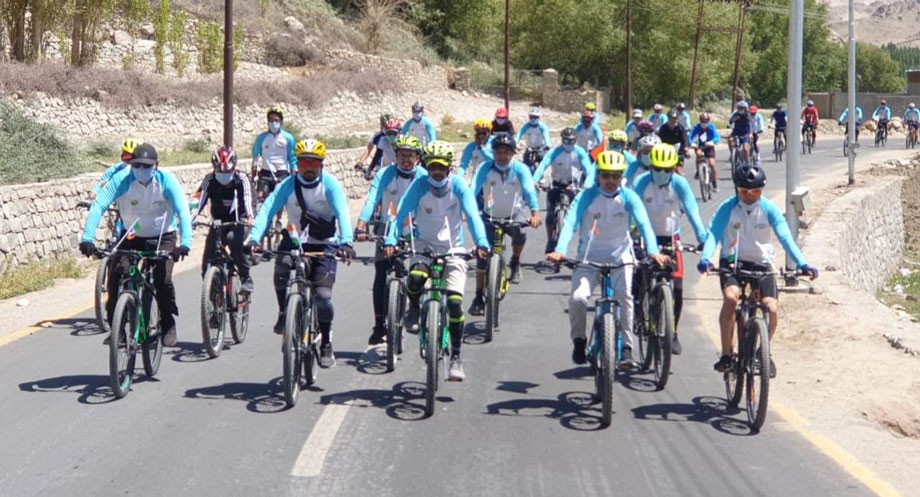 Leh :
 Celebrating first Independence day after the formation of Union Territory, over 70 cyclists participated in the bicycle rally organised by the Ladakh Cycling Club on August 15.
 
The 30 km bicycle rally was flagged off by Lieutenant Governor, R K Mathur from Pologround Leh.
 
Lead by MP Ladakh, Jamyang Tsering Namgyal the bicycle rally aim was to take forward a symbolic initiative of Prime Minister Narendra Modi's vision of making Ladakh India's first carbon-neutral region as well to promote Fit India Movement. 
 
The rally also highlighted the significance of the PM address on the occasion in the national capital as asserted on how Narendra Modi envisions Ladakh to be the first carbon-neutral region of India just like the way Sikkim has made a mark as an Organic state,
 
Jamyang Tsering Namgyal said, "Initiative of the Ladakh Cycling Club is a step ahead towards the vision and mission towards making Ladakh Carbon Neutral region as well as making traffic and pollution-free, and promoting a healthy lifestyle."  
 
He thanked Modi Government for the special and attentive care for the region and the people of Ladakh.
 
The rally was also organised to extend gratitude to the Prime Minister Narendra Modi for granting Union Territory status for Ladakh.