International symposium on Eco-Tourism in Ladakh held in Leh
By
Reach Ladakh Correspondent
Leh, Oct 08, 2019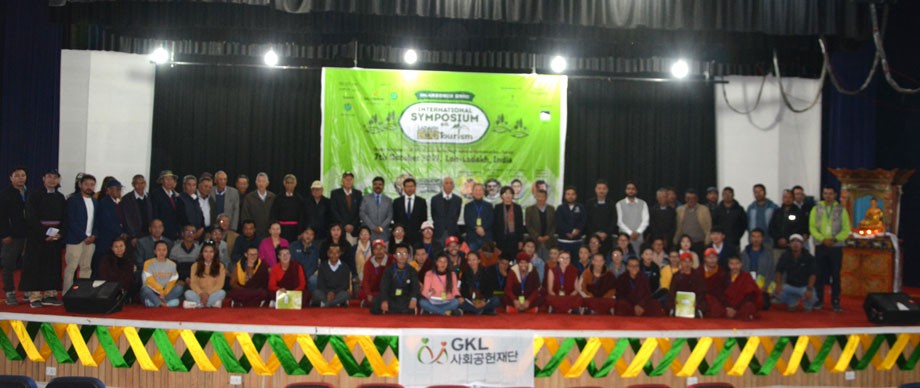 Leh :
International symposium on Eco-Tourism in Ladakh was organised by Won-Buddhism / Hanuran Trust India in collaboration with Hill Council, Leh on October 7 at Nagarjuna Auditorium Hall, CIBS.
A group of delegates from South Korea led by Yoon, Director-General GKL Foundation – subunit of the Ministry of Culture, Sports and Tourism, Govt. of Rep. of Korea and Jeong – Director-Generall of Hanuran Movement Inc., were present.
 
The idea was to bring awareness by listening to experts from Ladakh and out of Ladakh, sharing their valuable knowledge and views on how to promote and implement eco-tourism in Ladakh. 
C Phuntsog, VC Ladakh University, who was the chief guest stressed on eco-tourism industry in Ladakh involving all the stakeholders for sustainable development. 
 
Jigmet Takpa, Joint Secretary, Ministry of environment, forest and climate change, Govt of India; Dr. Pawan Gupta, Ministry of Tourism Delhi; Dr. Iqbal, Prof, Khallikote University, Oddisa, and Muzzamil Hussain, Co-Founder Roots Ladakh, Kargil, presented papers.
 
Won-Buddhism / Hanuran Movement India has been organising eco-guide training program since 2018 in Ladakh with the support of the GKL Foundation of Korea. Two eco-guide training programs in Leh was organised in the May and October 2019, where 362 participants were trained as professional guides. In 2019, the training was extended to the Kargil district. A total of 294 participants were trained in both districts. Also, a one-week program for taxi drivers in Leh was organised aiming to make them ambassador to promote, protect and preserve Ladakh especially the fragile environment, flora, and fauna of Ladakh.
 
 The basic concept of organising such a program is to preserve, protect and promote the culture, tradition, flora and fauna and the fragile eco-environment system of Ladakh by taking South Korea as a role model of development. South Korea which has undergone rapid industrialization and westernization lost most of its culture, tradition, language, food, and environment. 
 
Various program on youth empowerment, especially focusing the young women and girls of Ladakh by imparting them professional guide training under the leadership of eminent scholars and experts of Ladakh in different fields with subjects like basic tasks for tour guides, culture, and history of Ladakh, Eco-tourism of Ladakh and treatment of altitude sickness and first-aid was held.