Health Department, Leh, initiates 'Yellow Line Campaign'
By
Reach Ladakh Correspondent
Leh, Aug 08, 2019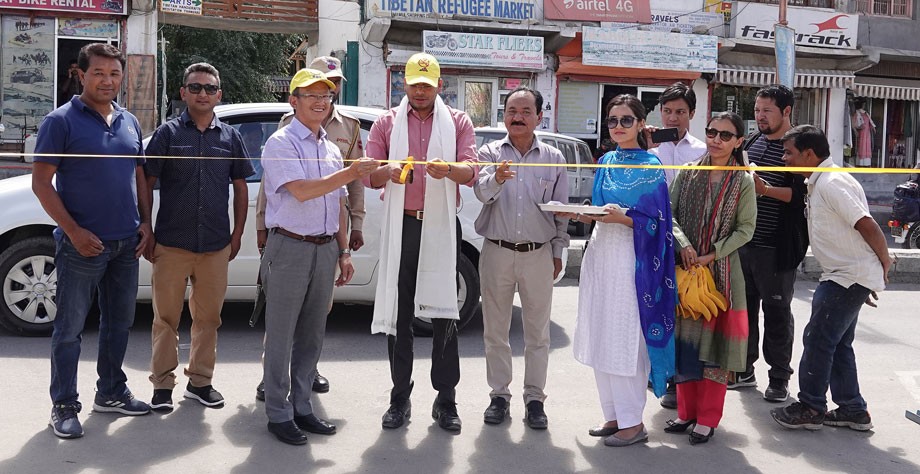 Leh :
A 'Yellow Line Campaign' under National Tobacco Control Programme (NTCP) was inaugurated by Sachin Kumar, DC, Leh on August 7 at Govt Girls Higher Secondary School Leh.
Under this campaign, a yellow line will be painted 100 yards away from an educational institution's boundary wall, indicating tobacco-free zone. 
The campaign was organised by the Health Department Leh to spread awareness about the ill effects of tobacco consumption and preventing young generations from getting addicted to it.
Sachin Kumar spoke about the hazardous effect of tobacco product which causes diseases like lung cancer, mouth cancer, and stroke. He suggested people quit smoking and other tobacco product with strong motivation to lead a meaningful healthy life. Also, he urged upon the students to study about the harmful effect of smoking and chewing of tobacco.
He also directed to ensure maximum participation of the public and educational institutions in this awareness campaign. Also, he urged for strict action against the violators of Cigarettes and Other Tobacco Products (Prohibition of Advertisement and Regulation of Trade and Commerce, Production, supply, and Distribution) Act. 
He further appreciated the step taken by the health department and assured to extend support at every stage.
Talking about the 'Yellow Line Campaign', Dr. Motup, CMO, Leh said that the launch of the campaign is preferred in Girl's school considering that women are the head of the family who takes care of their family in all aspects.
He further sensitized student about their responsibility to stop someone who inhales smoking at a public place.  
Dr. Iqbal, District Health Officer, Leh said that the objective of the campaign was to strengthen tobacco-free institution norms and also to create more awareness among the student and staff about the dreadful consequences of tobacco. 
He informed that within the yellow line, nobody would be allowed to sell or use tobacco product. 
The campaign would play a great role in making tobacco-free institutions in Leh which will be further replicated in other institutions of Leh district. 
Dr. Iqbal highlighted the present data of tobacco consumption in India and the harmful effect of second-hand smoking as well as electronic cigarettes.