Fresh Bhoti text-book launched at Lamdon
By
Tenzin Menkyi
Leh, Nov 03, 2014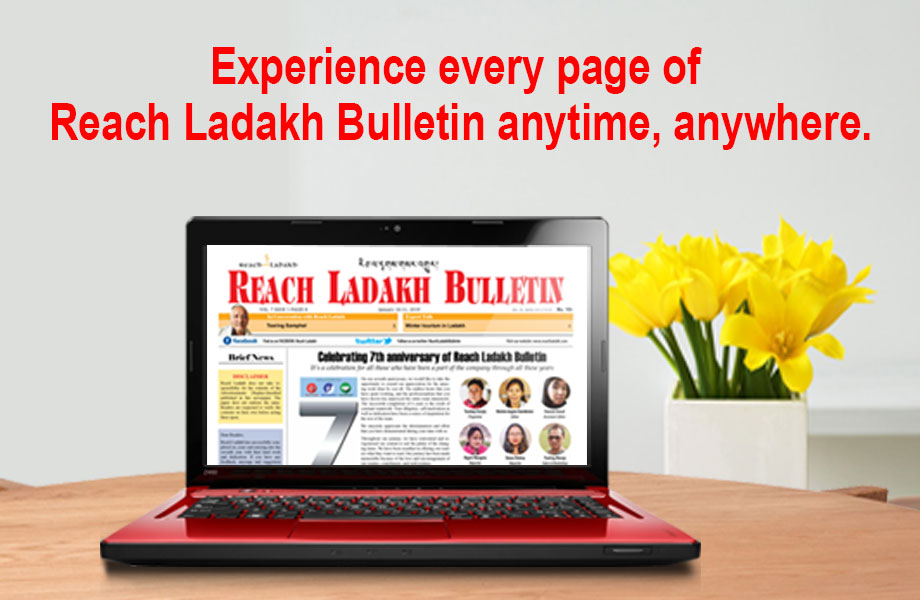 Leh :
With the objectives of preserving and promoting Bhoti language, Drepung Loseling Pethub Khangtsen Education Society Leh (DLPKES), on October 29 launched a series of fresh Bhoti text books for Nursery to Class 2 at Lamdon Model Sr. Secondary School. Geshe Kunchok Wangdu said, "The text book will soon be widely circulated in around 95 percent of Government schools in Ladakh. Perhaps, by the beginning of November, the students will start using the text book." 
"Language is the root of every culture, preserving language is preserving the culture. Of more than 6000 languages, written and spoken world-wide, many languages have already been forgotten and many are on verge of disappearance. It is hard to predict and we are in doubt about the sustenance Bhodi language in the future.  Certainly, the best plausible way to avert its disappearance is to preserve the language while its scripts and languages are still intact, says, Geshey Kunchok Wangdu stressing on the importance of preserving Bhoti language.

He further added that the three important criteria in conserving the language are: realising the importance of the language, acquiring a qualified language teacher and finally, procuring an appropriate text books for reference. Whilst we realize the importance of Bhoti language, about acquiring a qualified teachers; DLPKES has dispatched 18 Bhoti teachers to Sahara, HP, to be trained at Bhoti Language and related teaching skills. We will continue to organise such workshops to impart in-depth knowledge of the language, especially for the primary language teachers. Today's launch of the Bhoti text book will serve the purpose of procuring  the appropriate text book.

DLPKES is a registered organization dedicated to promotion of education and cultural preservation through Buddhist tradition of wisdom and compassion. To execute the vision of 19th Bakula Rinoche, DLPKES was established in 2005 by alumni of Drepung Loseling Pethub Khangtsen, Karnataka, under the guidance and patronage of Gaden Tri Rinpoche.

The text books were printed under the supervision of Geshe Konchok Wangdu; edited by Dokham Rewochay Nawang Tsultrm; designed by Ngasrampa Thupten Drakpa and Dokham Rewochay Nawang Tsultrm, who were also the Working Editor; Phuntsok Palden is the Artist; Geshey Jigmet Dorjay is the Administrator and the Bhoti text book were proof read by Geshe Konchok Wangdu, Dokham Rewochay Nawang Tsultrm   and Ngasrampa Tupten Dakpa.