Four Tibetan foxes, one Himalayan wolf die of electrocution in Wanla
By
Kunzang Chosdol
WANLA, Mar 15, 2018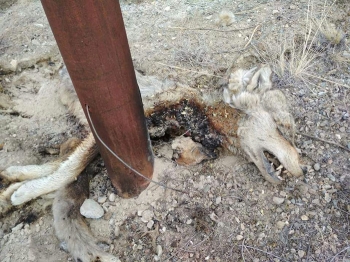 WANLA :
Yet in another incident of human-wildlife conflict, four Tibetan foxes and one wolf were electrocuted reportedly in February ending at Phanji La, Wanla.
The incident came to light on March 6 after a social media post.
A meeting was convened by WCBCL Leh on March 6 regarding the matter and expressed shock over the incident. They alleged PDD Department for their irresponsible attitude by leaving the electric pole naked and vulnerable to such an extent.
Lobzang Visuddha, President, WCBCL said, "We came to know that five precious lives were taken away due to fault in an electric pole. It happened around the end of February which came to light after some days. If it is the case of human there would be lots of hue and cry but since its wild animals no one's bother. People should be aware of the importance of their life as well."
While asking about their role and responsibilities to avoid such incident he said, "WCBCL always act as a whistleblower of every incident and violence against wildlife in the whole region. The moment the incident came to our knowledge we informed Regional Wildlife Warden. We are also going to request the concerned department to check the lines and naked electric poles so that such incident will not repeat."
Sayed Sultan, Regional Wildlife Warden said, "The incident is also been confirmed from our side so we are taking up this matter with the PDD department. As far as the case of electrocution, I believed that there was no wire that was dangling, there are some urging issue that happened with the pole so we are yet to get the on-ground factual report from our field staff".
He further said, "The most important thing is that we get to vacate such poles and if anywhere else the witty wires are directed we have to immediately insulate that because it poses a threat to both human and wildlife. We are going to coordinate with the PDD and look forward to check any further incident in the future."
When asked about the matter, Tundup Spalzang, Engineer, PDD said, "Immediately after the report of the incident we undertook the thing and recover the fault at the site. There was no dangling wire the incident happened due to the insulator puncture at the pole. This is something which we cannot see at distant unless we check it in pole itself. Since the incident happened in the outskirt area it took few days to come into light."
The member of the WCBCL and the Wildlife department stresses on to avoid such incidents in near future.