First national tribal festival, 'Aadi Mahotsav', kick-starts in Leh
200 artistes and artisans from 20 states take part
By
Reach Ladakh Correspondent
Leh, Aug 19, 2019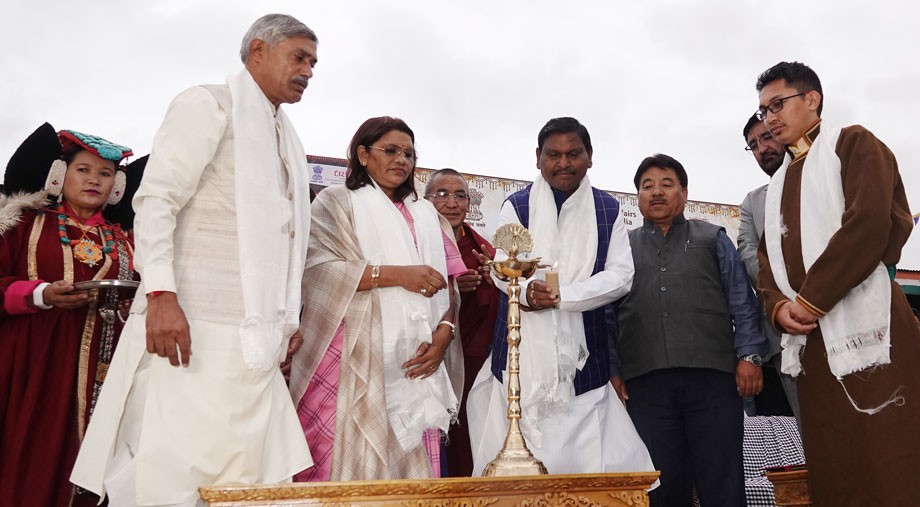 Leh :
A nine-day long Aadi Mahotsav (Tribal Festival) with the participation of artisans from 20 different states and locals started on August 17 at Pologround, Leh. 
Arjun Munda, Union Minister for Tribal Affairs inaugurated the festival jointly organised by Tribal Cooperative Marketing Development Federation of India (TRIFED) and Ministry of Tribal Affairs, Government of India. 
Arjun Munda while interacting with the artists appreciated their significant role in the protection, preservation and promotion of the rare folk art and craft of the country. He expressed his happiness to have successfully launched the event and briefed people about different schemes and activities of the Ministry of Tribal Affairs to support the Tribal artisans of Ladakh.
Mentioning about the unique cultural identity of Ladakh, he assured to take every possible step to protect the ethnic identity, values of culture and other morals and interests of this region at all cost.
Renuka Singh, Minister of State for Tribal Affairs said that the festival allows Ladakhi Tribal artisans to showcase and sell their handlooms and handicrafts through Tribe India stores. She also greeted the people of Ladakh for achieving UT status and said that the Tribal Ministry and other 40 Ministries of Union Govt. will take utmost care of Ladakh in every developmental process.
Jamyang Tsering Namgyal, MP Ladakh said that people of Ladakh have great expectation from the Union Government in protecting its ethnic identity, culture, traditions and land by including Ladakh under the ambit of 6th schedule of Indian constitution. 
Gyal P Wangyal, CEC, Hill Council, Leh appreciated the Tribal Ministry for organising Aadi Mahotsav in Leh. Also, he asked for the participation of Ladakhi handicrafts and handlooms in other National level exhibition. 
Gyal P Wangyal demanded inclusion of Ladakh under schedule 6th of Indian constitution to protect its core interest.
RC Meena, Chairman, Tribal Cooperative Marketing Development Federation of India explained that apart from handicrafts, the tribes gathered a wide range of forest produces which include various tree-borne products like flowers, fruits, seeds, barks and leaves and various insect produces like honey.
Pravir Krishna, Managing Director, Tribal Cooperative Marketing Development Federation of India said, "The theme of the first-of-its-kind festival in Leh-Ladakh is a celebration of the spirit of tribal Craft, Culture, Cuisine and Commerce, which will roll out a spectrum of the rare folk art and craft of their respective states."
He informed that as many as 200 artists and artisans from 20 states of the country are participating in this festival.
He further added that Tribal Cooperative Marketing Development Federation (TRIFED) boost small and marginal artists and artisans by inviting them to a mega cultural event and offering space and genuine price of their product from the buyers. This also helps them to get rid of the middlemen usurping their profits. 
He also added that TRIFED is promoting all their tribal products on an online platform such as Amazon, Flipkart, Snapdeal, and Paytm. 
Chering Dorjay, Former MLC, Haji Inayat Ali, Former Chairman J&K Legislative Assembly, Mumtaz Hussain, EC Minority Affairs, Sachin Kumar Vaishya, DC, Leh, Sargun Shukla, , SSP, Leh and many other guest were present.