First Mobile Science Exhibition flags off in Leh
First exhibition held at Boys Higher Secondary School
By
Reach Ladakh Correspondent
Leh, Sep 06, 2019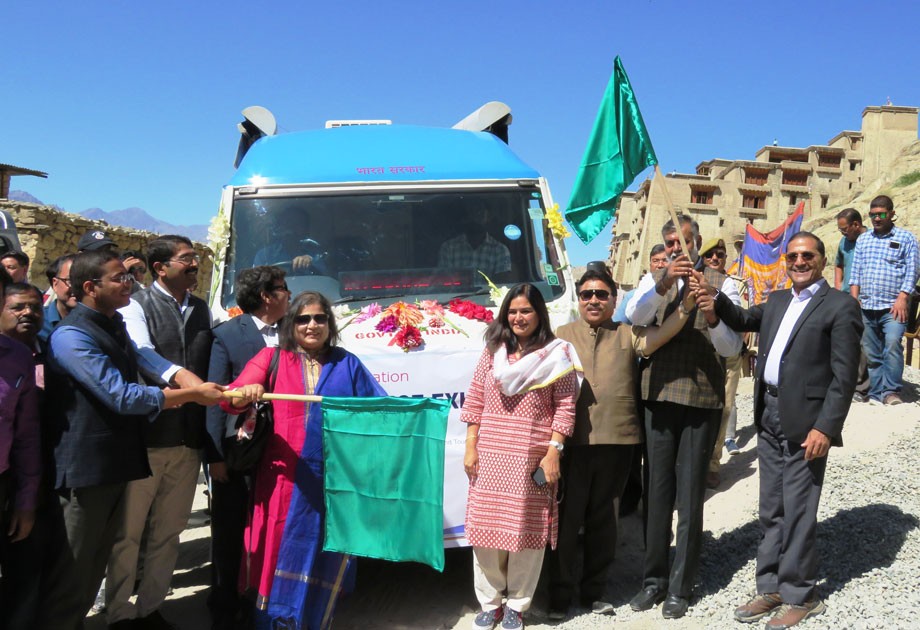 Leh :
First Mobile Science Exhibition was flagged off by Prahlad Singh Patel, Minister of State for Tourism and Culture (Independent Charge) GoI on September 5 from Leh Palace.
The Mobile Science Exhibition or Museo-Bus will organise exhibitions for the students throughout the year. The first exhibition was started at Boys Higher Secondary School.
In initial one month, the programme shall be conducted for the students of Leh and surrounding areas. It will further extend its coverage up to sub-divisional headquarters ensuring participation of rural students.
Prahlad Singh Patel informed that there were only 23 such Mobile Science Exhibition Vans for the entire country since 1965. Today with the visionary approach of Prime Minister Narendra Modi, 25 Mobile Science Exhibition are being dedicated to the Nation today in one go. 
Mobile Science Exhibition objective is to create a scientific awareness in the society, inculcate a spirit of enquiry and inspire youngsters to pursue a career in science, technology, engineering, and mathematics.
He said that it is for the first time a national movement is launched from Leh and now India will have 48 such Mobile Science Exhibition in different states with one functional in Leh. 
Talking about India's ranking in tourism at a global level, he informed that India has achieved a significant position from 65th in 2013 to 34th this year. 
Making a mention of the nationwide campaign of Swachh Bharat and its success started by Narendra Modi, he further added that PM has started another such campaign to free India from single-use plastic. 
He stressed on the need for Ladakhi to hold their commitment to stop single-use plastic before emerging into Ladakh UT. He urged Hill Council, public and stakeholders in tourism sector to take necessary steps from the first day with adequate facilities like waste segregation at the commonplace and its proper disposal to get certified as the cleanest region in the country in the next 6 months.
Before Ladakh UT come into force, he stressed upon Ladakhis to set their developmental agendas and other goals on priority.