Film on mysterious cave of Sharchay 'Rzongi-Kor'releases in Kargil
By
Reach Ladakh Correspondent
Kargil, Oct 27, 2020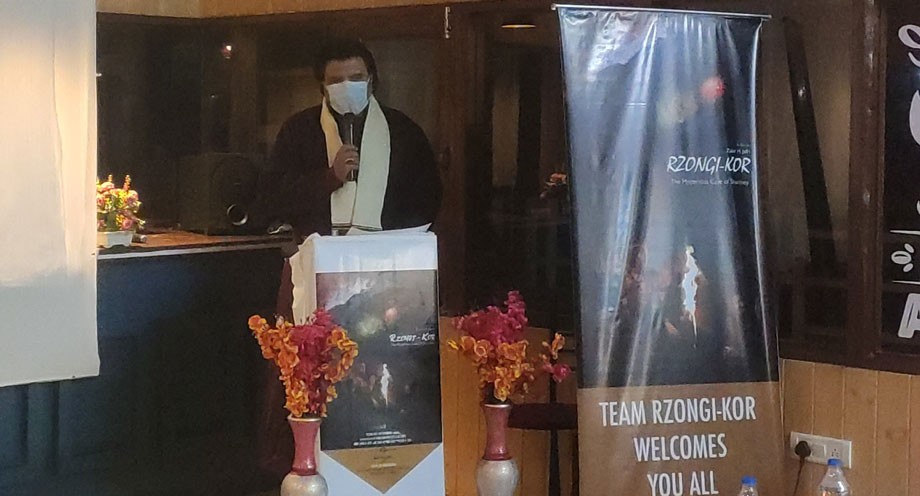 Kargil :
A short film on the recently explored cave' Rzongi-Kor' at Sharchay Batalik area was released on October 25.
The film was sponsored by the Department of Tourism, UT Ladakh, directed by a freelance filmmaker and member of Rzongi-Kor Team Zakir Hussain Jafari. The film features the detailed history of the mysterious cave as per local legends, its location, and other distinct features.
Chief Guest of the occasion, Feroz Ahmad Khan, CEC Kargil, appreciated the efforts of the team for their voluntary efforts in the exploration of the mysterious cave. He expressed optimism that the discovery of the cave will go a long way in giving impetus to tourism in the Kargil district in general and the Batalik area in particular.
He said that LAHDC, Kargil is committed to taking concrete steps towards the promotion of tourism in all tourism potential areas of the district, including Batalik. To boost tourism in the Batalik area, he informed that work on the construction of the Batalik War Memorial near Chulichan village will be started in due course of time for which the process of land identification has already been completed.
Feroz Khan further said that funds will also be allocated for the construction of a footpath from Chulichan village to Rzongi-Kor cave.
All such endeavors towards discovering such hidden treasures would be fully supported by the Hill Council, Kargil, and required funding will also be done in this regard, CEC said.
Deputy Commissioner Kargil, Baseer ul Haq Choudhary, said that the area has immense potential of attracting tourists and travelers on account of these distinct features.
He hailed the exemplary efforts of the Rzongi-Kor team for exploring the mysterious cave and also underlined the need for involvement and consciousness of the local communities towards the tourism potential and heritage sites of their areas.
Rzongi Kor team comprising Civil Engineer and resident of Sharchay village Arif Ladakhi, prominent Architect Fayaz Ali, Film Maker and Hotelier Zakir Hussain Jaffari, Actor Director Kacho Ahmad Khan (NSDite), prominent Ski Instructor Muhammad Sadiq, Tourism Expert, and Hotelier Ali Asgar, Cave Explorer Iftikhar Barvi with the support of the local volunteers and villagers of Sharchay village have recently conducted a comprehensive exploration of the Rzongi Kor cave, which is believed to be the longest natural cave in entire Ladakh region.