Film lovers get cinematography training course in Leh
By
Kunzang Chosdol
Leh, Oct 16, 2017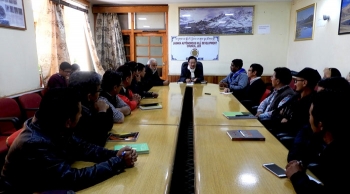 Leh :
For the first time, Film & Television Industries of India, Pune in collaboration with Hill Council, Leh organised a 20-day foundation course in Digital Cinematography from October 4 at Cultural Academy, Leh.

A total of 16 cinematographer and videographers participated the training course. FTI, Pune has organised this short course under Skilling India in Film and Television (SKIFT).
 
Dr. Sonam Dawa, CEC welcoming the FTI members said that in Ladakh there are many talented people in this field who needs guidance and technical training on the particular subject. They have been making features, documentary film etc. without any professional training. Such training by FTI will enhance their talent more efficiently. 
 
He requested the trainees to take maximum benefit from the training course since it will boost their talent and hoped that the first batch of this training course will act as a trainer for the rest in future.
 
He also asked FTP members for the possibility of organising film festival in Ladakh, which can help to attract tourist in Ladakh as well as to boost the talent of cinematographer and economy of Ladakh.
 
A.S Kanat, Course Director said, "I happen to be here ten years back and shoot a feature film in Leh. I know the challenges that the cameraman faces in Leh and we will work out for the solution.  I am here to train them for 20 days but it is a very short duration to teach all about and hope that they can get maximum benefit during this course."

 Sandeep Sahara, Coordinator, short course FTI, "We have been organising short courses in different field such as digital cinematography, acting, screenplay writing and promote cinema education all over India.  This is the 26th courses which is being organised in Leh. We also organise Film orientation for the teenagers and also looking forward to organising such if we get good result and feedback in Leh".
 
"Last year we met the Film society member of Leh and came to know that they haven't got former training and work according to their own knowledge, so we decided to take all the equipment and trains them so that they could learn and know about the basic grammar of the particular subject from a well-known person and authentic organisation," Sandeep added.

 The 20 days long training course was registered by 16 film enthusiast including photography, uses of light, features of camera, video graph etc.