Farida Parvin & Nawang Dorjee bagged the Best Camper-Girls Guides and Boys Scouts
By
Tenzin Menkyi
Choglamsar, Oct 01, 2014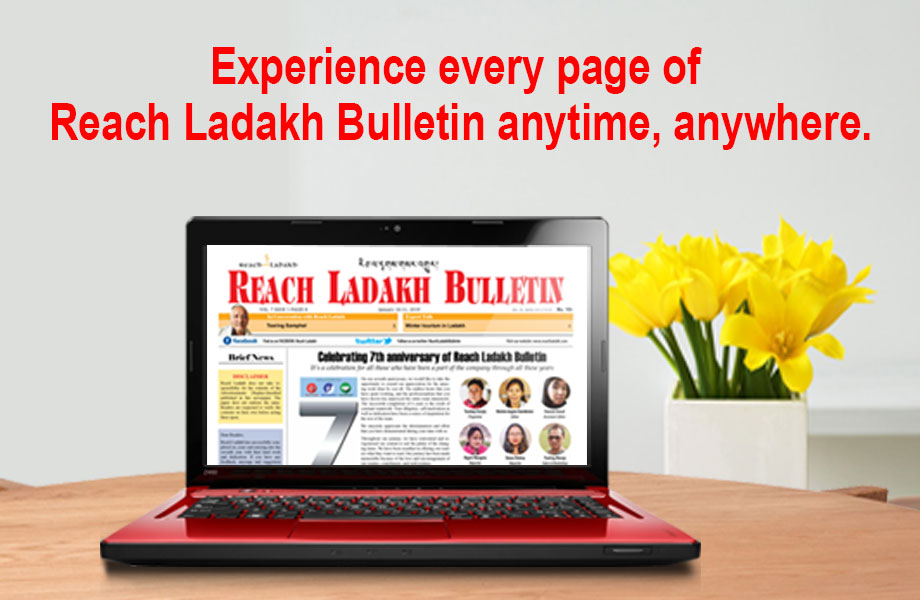 Choglamsar :
The department of Youth Services and Sports, LAHDC, organized a four-day Boys Scouts and Girls Guides Training Camp, 2014 for school students. The training camp began on Sept16, came to a conclusion with its closing-day function on September 19, around 6pm at Forest Park, Choglamsar.

Eight students each from12 different schools has participated in Camp, of which many of the students were especially invited from fur-flung Changtang, Tangtse and Nyoma Block. "The purpose of the camp was to impart trainings on Self-Defense and to teach the students know-how of fundamental life skills" said Tsering Tashi, Camp In charge.

The camp saw students being trained in various sectors like: disaster management, cultural performances, cooking sessions, classes on map and signal reading, tent pitching and final exposition to the guest of their learning during the four days.

Dignitaries invited at the Camp were: Simrandeep singh, DC; Satpal, Divisional Forest Officer Leh; Jivdash Singh, District Treasury Officer Leh; Kunzes Angmo, District Programme Officer, ICDS leh; Zaida Bano, CEO Tourism; Tsetan Puntsok, Chief Education Officer; Abdul Rashid, Distt Youth Service and Sports Officer; Dr. Palmo; Deldan Angmo; Principal Boys Higher Secondary School, Leh; Headmaster or Headmistress and teachers from respective schools.

Chief Guest: Simrandeep Singh, DC inspected each tent popped by 12 groups of students namely Mary Gold Patrol, Lotus Patrol, Tiger Patrol, Yak Patrol, Tulip, Lily Patrol, Daisy Patrol, Zewa Patrol, Jerenium Patrol, Jasmine Patrol, Sun flower Patrol and Rose Patrol, each patrol representing different schools. Sunflower Patrol won the competition for the Best Tent Pitched and its decorations. A welcome song 'Swagatham' was sung while DC examines the tents.

Mrs. Khalida initiated the 'Flag songs'; sung it along with rest of 96 students which was followed by many camp's cry such as 'District's Yell', 'State Yell' and many other cheering watchwords and slogans.
Plethora of activities then began. In 'Promise and Law program', the Scouts and Guides took pledge to do their duty fairly, to obey the law; to save environment; to be courageous; to be to help protect public property; to be trustworthy, brotherly; to help people and more.

'Muni Ke Gudhiya' a song, was sung at the top of their voices with much fervor simultaneously with lots of hand and feet movements.
Signaling Class termed as 'Deaf and Dump' has taught the students how to read the sign languages, therefore, presented short demonstration to the Chief Guest of their learning's.

Cooking class has the students gained culinary skills; as a result, they demonstrated their newly acquired skills. Two mates each from three teams: Tulip, Sunflower and Jerenium Patrol have prepared dishes which were presented to the guests; while other mate presented the recipes. Yakni, Rice, Fried Rice and Chowmein were prepared and the entire guest appreciated the good dishes.

Seven 'Angles' and 'Spirits' came to the venue with fire in hand and conveyed their messages of living with peace & happiness; keeping clean environment; being aware; helping poor; keeping fit morally and physically; being friendly; being disciplined. They circled around the bonfire lit initially by Chief Guest and rest of them put their fire they hold into flare. The program was then followed by the 'Camp Fire Song' sung by all Scouts and Guides.
Cultural Programmes then began with each Patrol presenting best of their performances, costumed in their best dresses and do. Tulip Patrol won this section of competition.

In his short speech for the occasion, Simrandeep Singh said: "it's a unique program, which was new to me, gave me an idea of Scout and Guides that I have heard of". He added: "Such camps or activities benefits the students in their growth and over all development. One must imbibe good lesson learned, implement it in becoming a good citizen, brother or a sister". He also spoke about his experience during his school days and also appreciated the organizer for conducting the camp in such sincere manner with lots of lessons to learn. "Student must pass on their newly acquired skills and share their knowledge to friends who hasn't has the opportunity to attend the camp" requested Simrandeep Singh.

Cultural Programs continues after the result was announced. Nawang Dorjay from Yak Patrol bagged the Best Camper-Boy Scout, 2014 and Farida Paravin form Marigold Patrol won the Best Camper-Girls Guide, 2014. The award for the Best Cooperative Teacher was lifted by Tsewang Dorjay from Daisy Patrol.