Divisional Commissioner reviews winter-stocking in Ladakh
By
Reach Ladakh Correspondent
Leh, Oct 04, 2019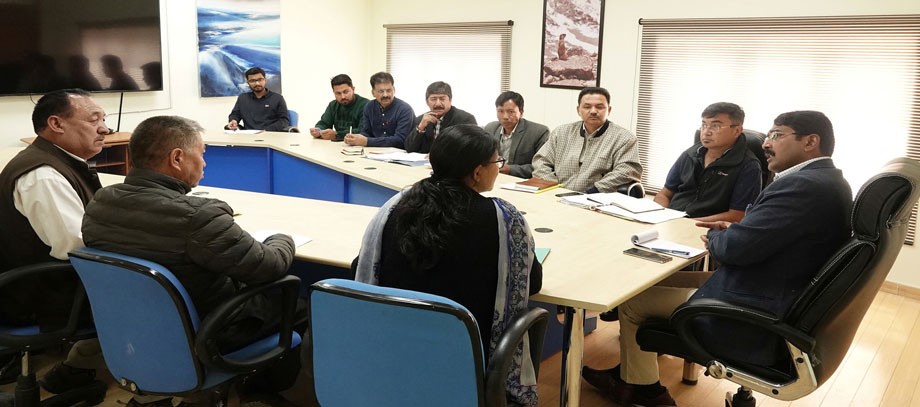 Leh :
With the onset of the winter season, Saugat Biswas, Divisional Commissioner Ladakh reviewed winter-stocks of all the necessary commodities in both Leh and Kargil district on October 3.It was held with all the concern departments of Leh district and through video conference with Kargil.
Saugat Biswas expressed satisfaction over the adequate stock of rice and wheat with the concerned department and FCI to fulfill the winter requirements in the district. 
 
He asked Sachin Kumar, DC, Leh, to ensure the availability of remaining amount to Consumer Affairs and Public Distribution (CA&PD) well on time from the revolving fund to enable timely payment to Indian Oil Corporation Limited.
 
Assistant Director, CA&PD was asked to complete the distribution of the remaining 30% of kerosene oil to the beneficiaries by December. Also, he asked DC to review the stocking position of LPG and ensure the availability of adequate stock of LPG with Hindustan Petroleum Corporation Limited and Indian Oil Corporation Limited for winter months.  
 
Regarding the food items supplied by the Cooperative Department, Assistant Registrar of Cooperative Society informed that orders have been placed for all the required food items in adequate quantity except for Dal/pulses. 
 
Saugat Biswas directed DC, Leh to ensure steady movement of all the essential commodities by October 15. He asked to ensure tender Dal and other remaining items immediately. Also, he asked to review the requirement of coal in the district for winter usage and to ensure stocking of total coal requirement by October 20.  
 
 Chief Animal Husbandry Officer informed about the complete stocking of 12 quintal feed and arrival of animal medicines in 10 days. 
 
Saugat Biswas also enquired about the sufficient stocking of rice, wheat, firewood, kerosene oil, fodder, LPG cylinders and other important essential commodities from Baseer ul Haq Choudhary, DC Kargil.
 
Talking about essential commodities of cereals and wheat, DC Kargil updated Divisional Commissioner about the 80% completion of stocking for Zanskar valley with the remaining 20% to be completed by the 10th of this month.
 
He urged DC Leh and Kargil for proactive follow-up with Forest officers and ensure steady movement of trucks with firewood with a target of completion by October 20.
Taking note of slow pace in stocking of essential commodities by Cooperative Department Kargil, Div. Com stressed upon DC Kargil to involve agencies to ensure proper and adequate procurement and stocking of essential commodities. Also, he asked timely distribution at all block levels especially Zanskar valley by October 20.
 
He also urged DC Kargil for early and complete dispatch of required stocking of gas cylinders starting from far areas of Zanskar. 
 
Saugat Biswas urged all the officers to work out modalities for adequate and proper stocking of commodities for the larger good of the general public who otherwise have to face difficult times during the harsh winter season.