Div Com Ladakh directs redesigning of subway architecture in Leh
By
Reach Ladakh Correspondent
Leh, Oct 14, 2019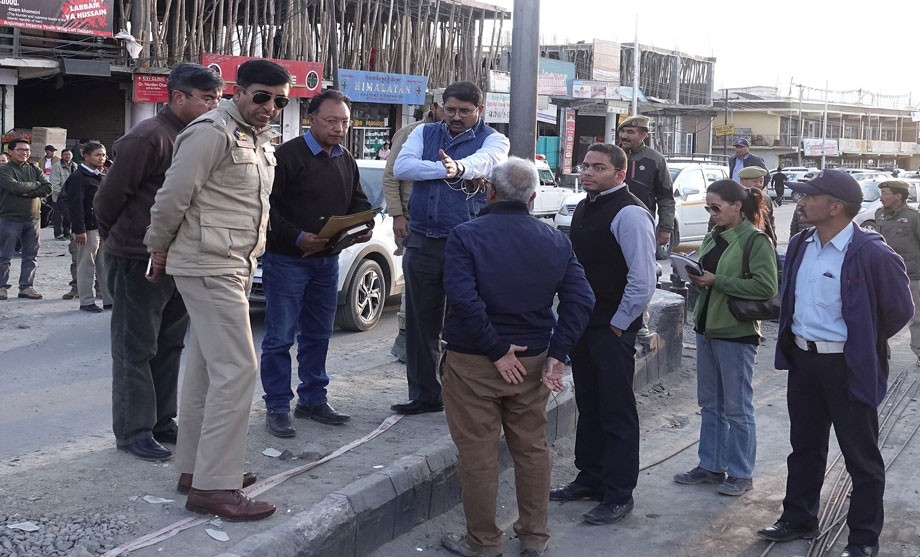 Leh :
Saugat Biswas, Divisional Commissioner Ladakh, inspected the ongoing subway construction near SNM Hospital on October 12. 
Sachin Kumar, Deputy Commissioner, Leh; R.L. Angurana, Chief Engineer PWD Ladakh; Moses Kunzang, ADDC, Suresh Kumar Chib, ASP, Leh; SE PWD; Ex-En R&B, Incharge Traffic Police, Leh and concern engineers were also present at the site during the inspection.
After the scrutiny of the construction, Saugat Biswas expressed serious concern over the design of the subway. The staircase of both sides comprises about 5metres each from the existing width of the road, thereby narrowing the existing road by almost half.
With the concern for the smooth flow of traffic and everyday commuters, Biswas made a serious objection over the construction. 
 While directing the officers he said, "It is our constant endeavour to widen roads for a smoother flow of traffic and ease of the commuters. At a time when traffic on the roads is increasing constantly and there is a need to have separate cycle tracks, narrowing down of an existing road cannot be allowed."
Saugat Biswas directed Sachin Kumar and R.L. Angurana to modify the architecture of the subway and road alignment within 24 hours keeping the existing road width intact. He also directed to restart the work only when the design ensures restoring of the original road width for easy traffic movement.
The subway is being built at a cost of ₹ 1.67crores sanctioned under AMRUT in 2014-15 and the construction started in 2019.