Daylong awareness programme conducted in Leh
By
Reach Ladakh Correspondent
Leh, Sep 27, 2019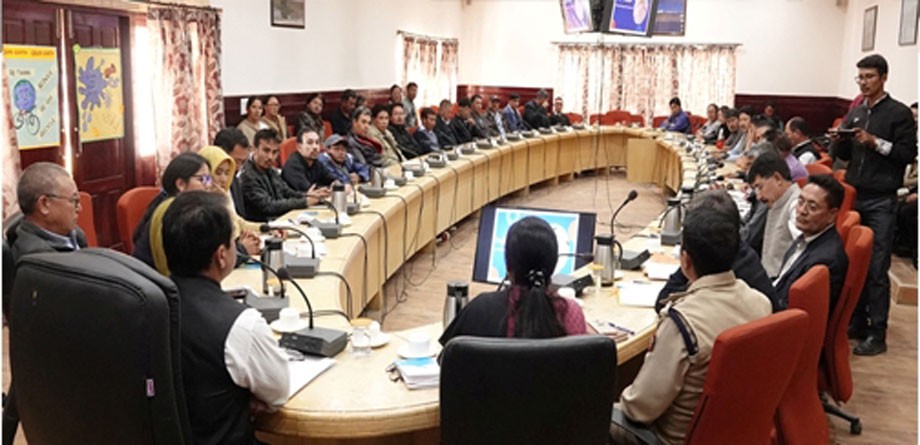 Leh :
 A day-long awareness programme was conducted by District Legal Service Authority (DLSA), Leh in collaboration with district administration Leh at DC office conference hall on September 26. 
The main purpose of the programme was to highlight the aims and objectives of DLSA, besides spreading awareness about some of the alarming environmental issues faced by people in the district. 
Justice R.S. Jasrotia, Principal District and Session Judge who is also the Chairman stressed on the need to make a collective effort in addressing the problems by way of water harvesting, waste management and the banning of plastic items. He urged to curve out a realistic and doable plan to make Leh district a clean place. He spoke on the harmful effect of plastic and stressed on conducting mass level awareness starting from schools. 
He also explained in detail about the legal fines charged to vendors, institutes, commercial buildings, hotels and individuals for unlawful disposal of waste, open burning of garbage, over gathering, damaging public property and places like parks. He directed Dr. Ishey Namgyal, President MC, Leh to notify people till Panchayat level and bring awareness on prevalent rules and legal actions among people at grassroot level. 
He also urged the Head of the Departments to avoid using plastic products in their offices and aware others on waste management.       
Spalzes Wangmo, Secretary DLSA highlighted the primary objectives of DLSA. She said that it was their main concern to disseminate awareness about the provisions of free legal services from DLSA to the poor and helpless people. She added that effort is to ensure legal justice at their doorsteps. She further elaborated other DLSA's schemes and mechanism and gave answers to the questions raised by the participants on the legal point of view.
An interactive session was also held. Presentations on issues like water sources, consumption and possibilities of innovative ways of water conservation like Ice Stupa, ponds and success story of Project Tsangda were present during the programme.