Cloudburst in Saboo, no casualty reported
Damages houses, roads and agricultural land
By
Stanzin Dasal
SABOO, Aug 09, 2018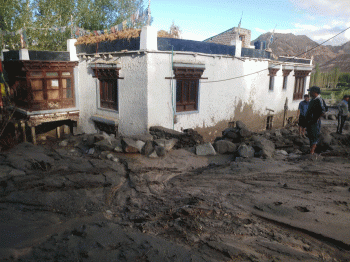 SABOO :
A cloudburst was reported in the Saboo area here on August 8. However, no loss of human life was reported. It caused damages to property and vehicles.
Around 8 houses have been damaged in Saboo along with the loss of agricultural lands, roads, irrigation canals and headworks.
Taking stock of the damages, Chering Dorje MLC said, "At present, the teams are all focused to clear the debris. We are also working to provide tents for the flood victims on a temporary basis and later on will look into for the permanent solution".
"Since the areas have been affected by the flood in the 2010 and 2015 also, there is a need to do a survey for the realignment of roads or creating a canal. A concrete solution is needed to curb such damages in future also", he added.
Avny Lavasa, DC after interacting with the flood victims and taking stock of the damages said, "Restoration work is in progress and we are putting every effort to complete it at the earliest. By the time the debris is cleared from the houses we have arranged their accommodation facility in the school where food and water will be supplied."
"To ensure human life safety, we are also shifting people in the flood-prone area to a safer place", she added.
Army personnel, paramilitary forces, a team of SDRF and volunteers rushed to the spot for rescue and to clear the debris.
The flood affected family while interacting with the media said, "It is very heartbreaking to see our houses filled with mud and water. The vegetables and agricultural lands are also damaged which is our source of livelihood."
The same area has been affected by the flood in the year 2010 and 2015 also.