Central Arid Zone Research Institute completes 3 years, holds a four-day symposium
By
Fatima Ashraf Barcha
Leh, Aug 28, 2015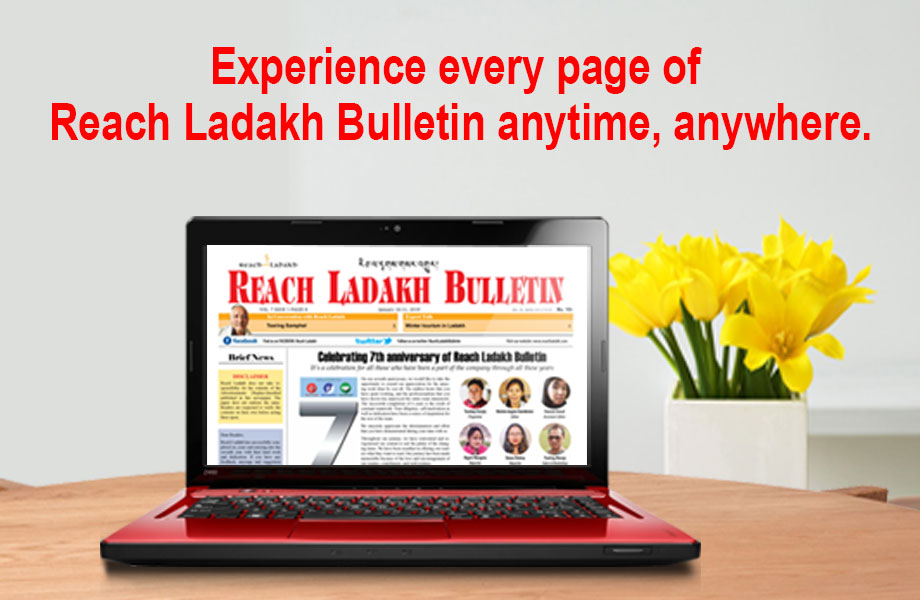 Leh :
Central Arid Zone Research Institute organized an inaugural function of CAZRI National Symposium on Sustainable Agricultural Productivity in Arid Ecosystem: Challenges and Opportunities SAPECO-2015 on 20th August at Shenam Community Hall.
Thupstan Tsewang, MP Leh was the Chief Guest of the occasion and Dr. L.S. Rathore Director General Indian Meteorological Department, New Delhi & Dr Gyanandar Mani-DGM, National Bank for Agriculture and Rural Development (NABARD) New Delhi as the Guest of Honour.
Many scientists from parts of the country participated.
Dr R.K Bhatt gave the welcome speech. He gave a brief description about their association and stated that their aim is to focus on the issues of agriculture in the hot arid region of the country. He mentioned that they also publish a journal called Annals of Arid Zones to cover issues on research and development in every aspect related to the biodiversity. They have been organizing conferences or seminar once or twice a year but first time in Ladakh. He also told that they have been conducting scientist-farmer interaction, stakeholder meeting and training in Ladakh. He mentioned that that they have a close association with DIHAR, SKAUST and have successfully distributed agricultural crops and seeds in the region to the interested farmers.
Thupstan Tsewang said that he is happy that such an association has been working in Leh since last three 3 years. He appreciated their work and hoped that the results of this seminar will be beneficial for the policy makers in future. He emphasized that though we have SKAUST, DIHAR but there is still a need for an up gradation of these institutes and he will put this in front of the central government. He also laid importance to the fact that Ladakhis' traditional knowledge of agriculture must be adopted and worked in sync with the modern techniques. He requested CAZRI that Ladakh can become a self-sustained region if the resources are tapped in the right way and they must look into it. Lastly, he agreed that that Ladakh is being impacted by climate change and we must make efforts to mitigate causalities due to it.
Dr Gyanander Mani mentioned that NABARD has a rural research development fund which helps in financing number of research activities so they are open to anyone who is interested in collaborating with them. He stated that he can see the vulnerability of the ecosystem of Ladakh and to protect it we must focus on joint work of scientist and the government to not only improve the productivity and making income but also bring about more livelihood options.
Developmental agencies like NABARD, scientists and govt. agencies should collaborate and come on the same platform. He also stated that NABARD is advocated as the first national agency on climate change.
He added that they have lot of proposals so institutes should collaborate with NABARD and tap the resources.
Dr. L.S Rathore mentioned that Ladakh is one of the most vulnerable ecosystems and people living here are the least contributors of the climate change but, unfortunately, are paying the price for it. He said that the 2010 flood is one such example of increased precipitation. He said such event have setbacks on the livelihood of the people. Therefore the task before the Agricultural organisations is major and more research is needed on the subject. He added that CAZRI is doing a commendable in its field. He said that he threat to climate, soil and water are immense and we all are responsible for it. Some of the technological decisions like the use of agro-chemicals (fertilisers, pesticides, and herbicides) must be subsided. Just sustaining the agriculture is not enough we have to scale it out and enhance that production. He also emphasized that there has been a rapid changing water cycle; this will have an impact on the agriculture so we must generate mechanisms to inform the farmers in time so as to protect their production. Govt of Indian took an initiative of forming an Agro met Advisory Service. He said that Agricultural institutes should o actively participate in it in order to channelise the information in real time to the farmers.
Dr Anurag Saksena , National Organising Secretary of the symposium offered the vote of thanks. There was the release of publications and abstract summary of the seminar.
CAZRI was established on 18th August 2012 at Stakna, Leh with the help of Agricultural department of Leh their main headquarters is established in 1960 in Cazri, Jodhpur Rajasthan. Earlier the Institute focused on the hot arid zones of India, but now their focus is on the cold arid region in India like Ladakh, Lahul-Spiti and Sikkim.