Campus Diary: Government Degree College Kargil
By
Stanzin Dasal
Kargil, Aug 07, 2018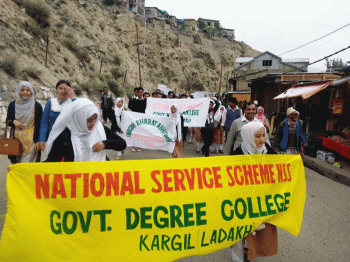 Kargil :
Kargil district has three colleges offering undergraduate degree programmes and a Satellite campus of Kashmir University offering Integrated Bachelor/Master courses in science and arts stream.  
Government Degree College, Kargil was established in the year 1995.  There are 2,500 students enrolled with 25 permanent teaching faculty and 23 on academic arrangements.
The institution offers Under Graduate Degree courses in Arts, Science and Commerce Stream and also the Skill enhancement courses.
Initiatives taken for the academic and student development are:
DMs Lecture Series:  Experts and eminent personalities of the country and the region itself are invited to interact with the student in the campus.  The initiative was taken under the patronship of Vikas Kundal, DC, Kargil to provide an opportunity and platform to learn from different expertise in different fields. 
Sipra Das, Senior Photo-journalist India Today/PTI visited the campus and spoke on scope and challenges in Photo-Journalism.
Students Seminar: The Department of Zoology conducts student seminar, where they are encouraged to use powerpoint presentations. The initiative is taken with an aim to build soft skills/personality development of the students by making them use Information Communication Technology (ICT) in academics.
Career Wall: The Career Counseling cell of the college has adopted a wall in the college as 'CAREER WALL' to provide information about different career-related opportunities. 
NSS Volunteering: The NSS wing of the college actively engages students in different volunteer programmes.  This is to sensitize them to become a responsible citizen and to build team spirit and leadership qualities.  They have successfully conducted and completed the Swachh Bharat Internship Program and contributed 100 hours to clean Kargil campaign.
Live lectures/virtual classes through Edusat network: the college has recently set up Edusat facility connected to Edusat hub of Kashmir division.  This provides an opportunity to the students to interact and attend live lectures of resource persons and experts based outside the district.
Also, the college is going to start vocational training courses in Solar water heater and Juice and Squash processing technicians.
Dr. Javed Naqi, Senior Assistant Professor GDC Kargil said, "There is a need as well as scope for higher education in Kargil because of the local topography and biodiversity. This will help to promote Kargil as academic tourism destination on national and international forums. And to make this possible we need coordination and collective efforts of different stakeholders in the region." 
Challenges:
•    With the increasing number of students, the college lacks proper infrastructure facility.
•    Small laboratory rooms
•    Limited fund allocation under District Plan handicaps the college authority to develop the institution and also there are insufficient teaching and non-teaching faculty. 
•    Lack of transportation facility causes difficulties to the students coming from villages and other peripheral areas. 
•    Untimely conduct of examination and delay in result declaration. Since the college is affiliated to the Kashmir University, students of the district face difficulties in completing their bachelor course in time.
Dr. Amina Qari, Principal said, "I have personally met the authorities at Kashmir University and concerned education minister before and addressed the issues. To develop the institution it is very important to get sufficient fund under state plan rather than getting meager amount through district fund."
Changes needed:
•    The fund allocation for the college needs to be shifted from District to State fund
•    Creation of teaching and nonteaching posts for the smooth conduct of academics.
•    Separate academic/examination calendar for Ladakh region for the benefit of the students
•    PG courses in the college or Cluster University for Ladakh.
•    Initiation of minor research projects in the college on avenues and challenges in the district. 
Amina Qari said that to develop and strengthen the higher education system in Ladakh it is very imperative to strongly demand it. And most importantly the leaders should be supportive and responsible to take the demands to higher concerned authorities and find a solution for it. 
Student speaks:
Zarina Parveen, 3rd semester said, "We have raised the issue of delayed examination and result several times but till now there is no improvement. It seems that the education sector is not being given much importance by the leaders. We have wonderful faculties who support us at every level but as a student of this institution, I feel there is a need for more platforms and opportunities to the students to learn and excel in their interest apart from academics. Also, I appeal all the leaders and concerned authorities to support and develop the higher education system in the district so that students of the region are not compelled to go outside and pursue their studies."
Hajira Banoo, "The College lacks in infrastructure, drinking water and transportation facility. Because of the limited space in the laboratory, students go batch wise which is very time-consuming."