CAMPUS DIARY: Eliezer Joldan Memorial College, Leh
By
Stanzin Dasal
Leh, Jun 30, 2018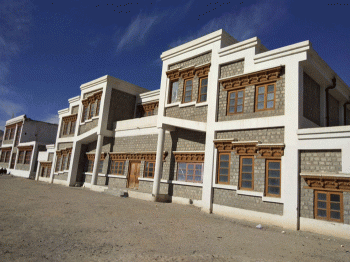 Leh :
Degree College Leh was established in the year 1994 and was renamed as Eliezer Joldan Memorial College Leh, in the year 2005.
Student enrolled: 1486
Teaching Faculty: 42 with 34 Permanent and 8 Contractual
All science, arts and commerce courses are offered 
The institution is striving and walking on the road to progress with a team spirit of the staff and student to make it the best.  Deskyong Namgyal, Principal said, "Being a Higher education institution, various activities apart from the routines are needed to engage students and staffs for a better tomorrow."
Initiative taken:
•        Student Council: To bridge the communication gap between the students and teachers, a student council is formed on September 10, 2017, with 45 members. 
•         Various extra-curriculum activities such as sports, dance, workshops and seminars held.
•         Plantation drive
•         The timings of the library have been extended by two hours.
Activities:
•         Prime Minister Special Scholarship Scheme (PMSSS) workshop-II held on May 3 to counsel the students of Ladakh region about scholarship scheme.
•         Cleanliness drive followed by painting in the proposed hostel for girls carried out on May 6.  Hostel committee along with the NSS committee of the college initiated to make the hostel functional at the earliest.
•         UDAAN recruitment drive on May 12
•         Guest Lecture on Nano Technology by Prof. Kamlakar from Pune on May 30
•         Workshop on Financial literacy through financial education by National Stock Exchange  held on June 7
•          Awareness programme on fraudulent banking services by RBI on June 12
Challenges
1. The major challenge included the delay in conducting examination and result declaration. The college is affiliated with the Kashmir University and due to the unrest situation in the Kashmir valley, the academic session of the student in Ladakh is affected. The student council demands a strong intervention of the leaders to solve the issue faced by the students.
2. Lack of drinking water and transportation facility.
3. Limited funding for the proper functioning of the college.
4.  A professional counselor in the college is important for the students to help them cope with various issue and challenges faced.
Deskyong Namgyal, Principal: "Above all kinds of development that are taking place  we need to think and work seriously upon developing the Higher Education system in Ladakh at all levels for a better tomorrow."
Student speaks:
Konchok Namdol:  "All these years we have been raising this issue at all levels and till now no positive change on the examination has happened.  Seems our leaders are least bothered about us because whenever we go and meet them with a copy of our memorandum they have only one answer that the issue has been raised and we are working on it."
Stanzin Chonzom, Final year student: "I want to express my gratitude to all the wonderful teachers who support and guided us not just as a college student but more like a small child."
Konchok Namdol:  "Most importantly, there is a need of smooth academic session and if this gets solved one of the major challenges is sought. I must say we have students who are excelling in mountaineering, cycling, marathon, International ice hockey player and many more. The institution and student have potential to prove the best but lacks support and strong intervention."