2nd Ladakh Winter Conclave to be held from February 21-23
Commissioner/Secretary Tourism, UT Ladakh Rigzin Samphel reviews the preparedness
By
Reach Ladakh Correspondent
Leh, Jan 08, 2021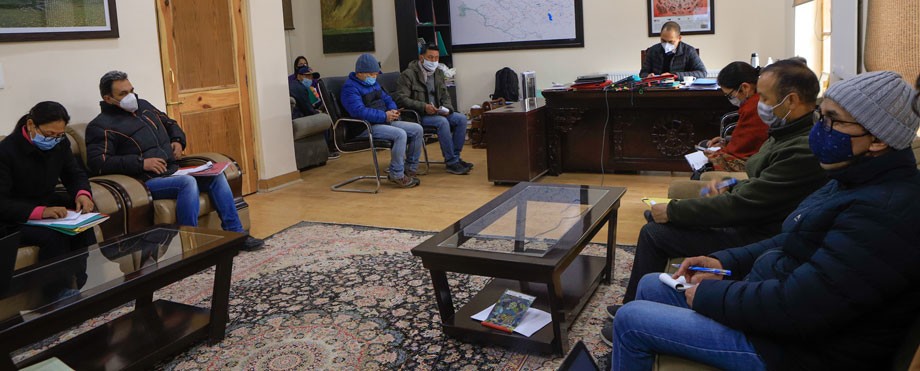 Leh :
Commissioner /Secretary Tourism, UT Ladakh Rigzin Samphel reviewed the preparedness to conduct the 2nd Ladakh Winter Conclave-2021 on January 7 at UT Secretariat. 
The 2nd Ladakh Winter Conclave-2021 will be held for three days from February 21 to 23. The conclave will be celebrated in both the Leh and Kargil districts of UT Ladakh. Due to the prevalent of the COVID-19 pandemic, most of the events will be held virtually. The event will showcase the potential for winter tourism in Ladakh, with winter sports, cultural and culinary experiences being curated for this conclave.
The meeting was attended by Director Tourism, UT Ladakh; Principal, IHM Ladakh; Deputy Secretary, Culture Academy, Leh/Kargil; Assistant Director Tourism Leh/Kargil; Assistant Director Information Leh/Kargil; Dy. Superintendent, Archeological Survey of India; President, ALTOA, Leh; President, AKTTA, Kargil and President Hotel Association, Leh/ Kargil.
 
Rigzin Samphel felt the need for the promotion of the rich culture and heritage of Ladakh during the event. Tourism Department was asked to stress the importance of the marketing aspect for tourism promotion. Also, he asked them to complete the promotional video well in time.
                                                                                               
AD, Tourism, Jigmet Namgyal briefed the highlights of the three-day event which would include a heritage walk in Old Town, adventure and winter sports, environment, and wildlife.
Rigzin Samphel gave directions to the concerned departments and stakeholders to ensure proper follow-up of COVID-19 protocols during the event.
 
AD Tourism, Kargil, Aga Syed Towha spoke about the importance and potential of promotion of skiing and motor expedition in Kargil District among other winter tourism attractions.