Zanskar celebrates annual Karsha Gustor festival
Haji Anayat Ali stresses on strengthening age-old ethos of communal harmony, peace and brotherhood
By
Reach Ladakh Correspondent
Zanskar, Aug 02, 2019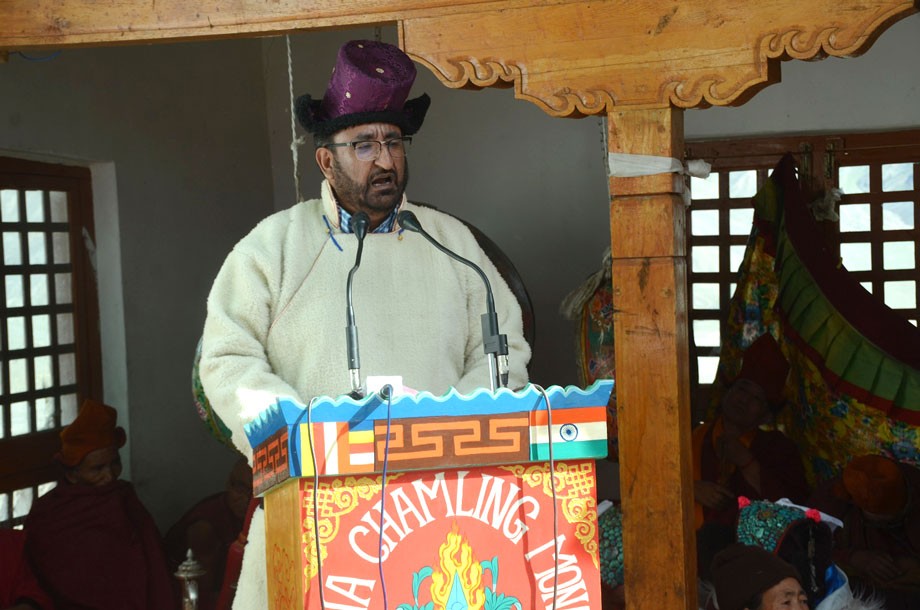 Zanskar :
The annual Karsha Gustor festival was celebrated with great religious fervor on August 1 at Karsha monastery.  
Mask dance was performed by the monks to ward off the evil forces and to establish the victory of good over evil. Folk music and dance were also presented.
Haji Anayat Ali, Chairman Legislative Council expressed optimism that the celebrations associated with it will go a long way in reiterating and reinforcing the notion of the victory of good over evil besides helping to revive and promote the rich monastic traditions. 
He said that age-old ancestral ethos of communal harmony, brotherhood and peace are essential parameters for growth and development. We should strive hard to cherish and promote these virtues to establish a progressive and prosperous society.  
 
Haji Anayat said that that the coming up of new administrative units is a welcome step and district status if granted to Zanskar will usher in a new era of unprecedented growth and development in the area. He assured people that the issue would be vigorously taken up at appropriate levels.
He further assured the members of Karsha Gonpa that he will urge the Governor to visit Zanskar in future and ensure that the project for the development of the monastery gets sanctioned at the earliest. He informed that effort is also on to sign an MoU with the Tribal Affairs Department to get funds for augmenting facilities to students of Zanskar and other areas of Ladakh region who are residing in different hostels in Srinagar and Jammu.
 
Feroz Ahmad Khan, CEC assured that LAHDC Kargil is committed to extend their support for holding such events in the district in future.  Also, he urged people to contribute their bit towards the promotion and preservation of traditional values and virtues of peace, love and compassion.
Besides, Er Phunsog Tashi, EC Tourism and Zanskar Affairs Baseer ul Haq Choudhary, DC,  Councillors, Lobzang Motup, Head Lama Karsha Monastery, King Zangla Nima Namgyal and many other dignitaries were present.