Two days Zanskar Festival held in Padum
By
Reach Ladakh Correspondent
Zanskar, Sep 16, 2021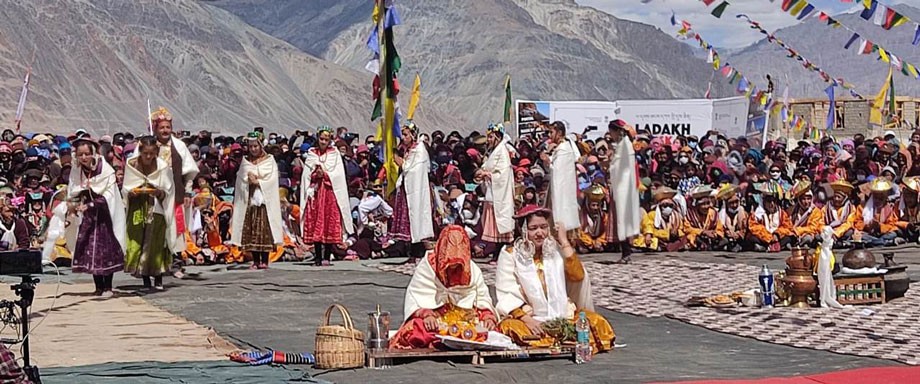 Zanskar :
Two days Ladakh Zanskar Festival was inaugurated by Feroz Ahmed Khan, CEC, Hill Council, Kargil in Padum on September 15.
CEC Feroz Ahmad Khan congratulated the Department of Tourism and Culture UT Ladakh, District Administration Kargil, and the Ladakh Academy of Art, Culture and Languages (LAACL) Kargil for successfully conducting the Ladakh Zanskar Festival at a grand scale.
He also extended his gratitude to the local and guest artists from Lahaul and Spiti for showcasing and introducing their rich culture and tradition to the people of Zanskar.  
While highlighting the legacy of the rich culture and tradition of Zanskar CEC Khan said LAHDC Kargil with the proactive support of the UT Administration Ladakh is fully committed to developing a sustainable eco-friendly tourism-related infrastructure in Zanskar. He also said that separate funds have been provisioned in order to execute various tourism-related developmental works at a larger scale. 
He expressed optimism that in the coming days Zanskar will be the epicenter of tourists in Ladakh and urged local inhabitants to keep their cultural legacy intact.
Hailing the efforts of the NHIDCL in the speedy construction of Kargil-Zanskar Road NH-301, Khan said that major road development work has already been initiated and the road construction work is going on in full swing and the road connectivity with Kargil, Himachal Pradesh, and Leh will boost the influx of tourists in Zanskar which will enhance the local economy and generate various employment avenues for locals and un-employed youth. 
Stalls of various products, artifacts, traditional food items, and other allied products were showcased.
EC Tourism and Zanskar Affairs, Er Phunsok Tashi urged the UT Administration to schedule the Ladakh Zanskar Festival as an annual event on fixed dates from next year so that tourists and other interested people can plan their itinerary in advance.
Briefly revisiting the rich history of Zanskar, Secretary, Tourism and Culture, Ladakh, Mehboob Ali Khan said that the unique identity of Zanskar holds an important position in today's globalized world which has immense potential to attract tourists from all over the world.
He also said that the UT Administration has been taking pragmatic steps to promote tourism in Zanskar valley, and in the future local people will witness the change. He said that apart from the natural attraction in terms of landscape, Zanskar has huge potential to attract tourists in various other aspects including adventure tourism, winter sports, trekking, cultural and spiritual tourism.
The UT Administration is committed to making modern facilities including roads, health, education, telecommunication available to people in rural and far-off areas at their doorsteps. He said that one of the major emphasis of the LG Ladakh is on road connectivity by strengthening the road network in the UT, adding he said that work on the construction of Kargil Zanskar Road NH-301 is going on in full swing which is expected to be completed by next year.
Secretary Tourism and Culture further said that by organizing cultural festivals like Ladakh Zanskar Festival, an effort is being made to enhance the window of tourism from 3 to 4 months to 12 months a year, adding he said that the Zanskar Winter Festival will be organized on a large scale this winter. He urged the tourism industry people of Zanskar to plan things well in advance so that at least minimum required facilities can be made available to tourists visiting the area during the festival period.    
He also requested the local representatives, tour operators, guides, hoteliers, and other stakeholders to form an association in order to furnish inputs for the development of sustainable tourism policy in Zanskar. He further said that scheduled helicopter services will be operated from Leh, Srinagar, and Jammu with the twin objective to facilitate the local population on subsidized rates besides promoting winter tourism in Kargil District including Zanskar. 
DC, Kargil, Santosh Sukhadeve in his welcome address expressed gratitude to all dignitaries, artists, and people of Zanskar for their enthusiastic participation in the festival. He expressed optimism that holding this event as a part of the 75 years of India's independence will prove a mirror to showcase the rich cultural heritage of Zanskar and will also help in its further preservation and promotion by enlightening people of its importance in the present times.
On the 1st day of the festival today, around 200 artists from Padum and other parts of Zanskar Valley besides artists of North Zone Cultural Centre Patiala from Lahaul and Spiti districts of Himachal Pradesh mesmerized the dignitaries and a huge gathering of local people with their traditional music and dance forms and other performances on the traditional marriage system, religious rituals, and other related aspects. 
Traditional archery exhibition matches, traditional horse races, and yak riding were also organized on the occasion. Various departments and banks had also put up their stalls to enlighten the general population and the aspiring entrepreneurs about different government schemes while other stalls included those on the local handicrafts and handloom, agricultural products, Zanskari Doksa lifestyle.