Two days Aryan Folk festival concludes in Garkhone
By
Reach Ladakh Correspondent
GARKHONE, Oct 10, 2019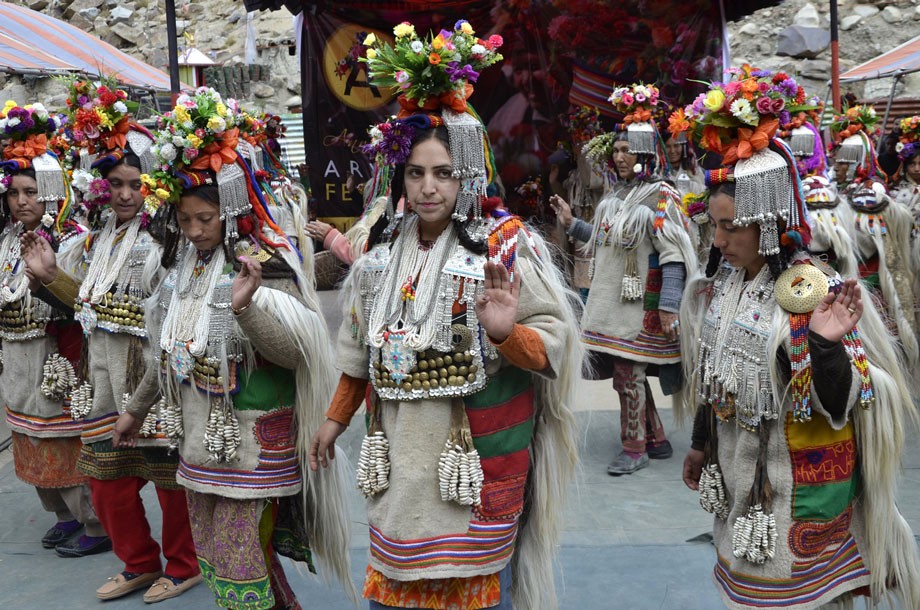 GARKHONE :
 Showcasing ethnic food, local fruit and handicraft products to preserve and promote the rich Aryan culture, two-day-long Aryan Folk festival held on October 9 and 10 at Garkhone, Changrah.
The festival was organised by Tourism Department Kargil in collaboration with the Preservation of Aryan Culture and Traditional Society (PACES). Baseer ul Haq Choudhary, Deputy Commissioner and CEO, LAHDC Kargil inaugurated the festival.
 
Traditional music and dance form were presented by the artists of Darchik, Garkone, Sanachay, Hardass, Gargardo and adjoining villages.
 
Baseer ul Haq Chaudhary congratulated the artist for their outstanding performances. He said that the festival aims to preserve the rich culture of Aryan valley and to improve cultural tourism by showcasing its divergent ethnic features, folk traditions, local food, rituals and heritage sites.
 
He urged the Aryan people particularly the youngsters to strive hard to cherish and uphold the rich cultural traditions and age-old ethos of communal harmony, unison with nature and peaceful co-existence so that these are passed on to the coming generations in their true essence.
 
Dr Vinod Kumar, Superintendent of Police Kargil; Col Vinod Joshi, Commanding Officer 16 JAKLI; prominent citizens, officers of civil and police administration besides domestic, foreign tourists and researchers were present during the inaugural function
 
Deputy Commissioner also met few public delegations from Garkhone, Darchik and adjoining villages. They projected various issues and demands including construction of central sponsored school like JNV, KV in the area, extension of link road of Garkhone village, construction of cultural centre and community hall, up-gradation of Medical Sub Centre (MSC) and Primary Health Centre (PHC), up-gradation of High School to Higher Secondary School, provision of funds for flood restoration works, provision of solar lights facility to Garkhone Gonpa and many more.
 
Construction of road from Darchik to Mantha and Langtot hamlets under CRF and NABARD, upgradation of schools, construction of playfield and Primary Health Center were the demands of Darchik delegate. Apart from that, provision of electricity to the area from Chutak and Dah from the Hydel Project, provision of new water supply scheme for Thara hamlet, broadcast of programmes in Dardi language from All India Radio (AIR), Kargil and other related demands were presented.
 
Baseer ul Haq assured them for their demands to be considered seriously and steps for fulfilment will be taken up in a phased manner. He also asked people cooperation with the administration for effective and efficient execution of various developmental programmes and welfare schemes
 
The festival was concluded at the Women Empowerment Centre (WEC) of the 16 JAKLI of Indian Army at Darchik. Number of folk music and dance-themed on nationality and patriotism, bravery of the Aryan race, communal harmony, love and care for nature and sentient being were presented.