Two day Aryan festival concludes
By
Reach Ladakh Correspondent
Hanu Yokma, Aug 29, 2019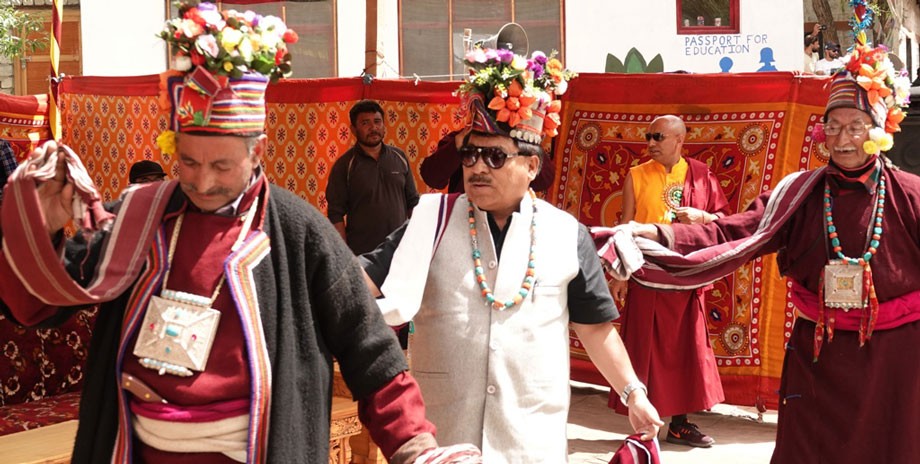 Hanu Yokma :
Two day Aryan festival concluded with the participation of artist from Hanu, Dha, Beema, Darchik and Garkhon on August 28.
 
Congratulating people for celebrating the Aryan festival, Gyal P Wangyal stressed on the need to preserve and promote Aryan culture. He assured to provide all kind of support from Hill Council in strengthening the cultural root and promotion of Brokpas. 
 
He urged the foreign and domestic tourists to be the ambassadors of Aryan Festival and spread the message of peace and Aryan culture prevalent in Ladakh to the outside world.
 
He directed Tourism Department to ensure timely publicity of Aryan Festival from next year to attract more tourists. 
 
Gyal assured to consider the demands of the Aryan community. He said that the Dha hydel project will be made functional before winter sets in. 
 
Marking the celebration of Aryan Festival in UT Ladakh, he reiterates the struggle of great leaders in the last 70 years to get UT status for Ladakh. The UT status has freed Ladakh from Kashmir and given us our own identity.
 
On an inaugural day, Jamyang Tsering Namgyal also congratulated the people of Brokpa tribe for celebrating Aryan Festival in UT Ladakh. At the same time, he paid tribute to Nawang, Dorjey and Stobdan who sacrificed their lives for the cause of UT. 
 
Jamyang emphasised on the need to promote Aryan culture in the rest of the world for which he suggested to form a common registered cultural group to avail the opportunities through Ministry of Culture to showcase their folk song and dance in foreign countries. 
 
He instructed Tourism Department to put Aryan Festival into a fixed annual tourist calendar and also ALTOA to include the festival in their tour packages for better promotion for the festival in coming times. 
 
He also announced that along with Leh-Manali-Bilaspur railway line, a project on Leh Beema rail line has also been proposed and regarding the extension of the road from Khaltsi to Batalik including Hanu, he assured to take up the matter with DG BRO soon. 
      
He assured to support the Brokpa tribe considering their demands submitted to him in a memorandum. He committed to sponsor a tribal hostel in the next 5 year for the students of Brokpa community and get the support from Government in facilitating home stays for which he urged the community people to get their homestays registered with Tourism Department. Also, he announced ₹2 lakh to the people who have a collection of old religious scriptures, ancient historic books, literature, statues, artefacts etc for its preservation and to support them in constructing an ice hockey rink for their children. 
Phuntsog Stanzin, EC Agriculture; Tsering Angmo, AD Tourism; President ALTOA and many other dignitaries were also present.