Tibetan version of King Kesar narrated in English
By
Fatima Ashraf Barcha
Leh, Jul 11, 2015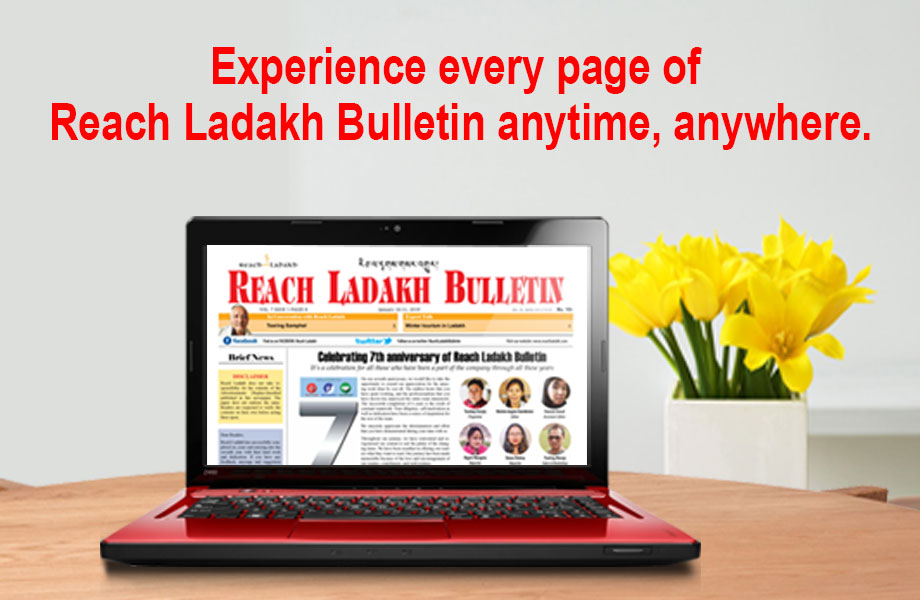 Leh :
A small part of the Tibetan version of Gyalam Kesar was narrated for an hour in English by a French storyteller Mireille Gehin Raconte on 3rd July at Ja Khang coffee house.
It was organized in collaboration with LAMO (Ladakh Arts and Media Organization) and Ja Khang cafe. Mireille was accompanied by Tsering Chorol, who sang the folk songs and played Ladakhi instruments while the epic was being narrated.
The welcome speech was presented by Virginie Seillier, who is working at LAMO as a graphic designer. She gave a brief prologue about the epic and introduced the artists. She also thanked the Ja Khang coffee house owners for having let them conduct the event. She added that they have decided to help Ladakh Heart Foundation in Agling and requested people to support them.
On having interviewed Mireille Gehin, she said that, almost ten years ago she came across the Tibetan version of Gyalam Kesar and became quite interested in it. She has been narrating the story in French for the last six years to German, Italian, American and Israeli audiences. She said that they thoroughly enjoyed it and are curious to know more about the epic. This was her second attempt at the English narration of the part of the epic and she hopes to continue it so as to entertain more and more people. Her main aim she said was to make the Ladakhis especially the young generation aware about the epic of Kesar and the other oral traditional stories of the region.
She said that she has plans on writing a book on the epic but needs to perform a lot of research work in order to understand the characters in the epic of both Ladakhi and Tibetan version. In this regard, she will be going around Ladakh and meeting Ladakhi artists. She says that the difference that she found between the two versions is that the Tibetan epic is more serious in the sense that it has more war incidents than the Ladakhi version. She is also learning Ladakhi Kesar folk songs from Tsering Chorol. She also said that if she is a willing to narrate this story in schools if they approach her.
The oral song poem of King Kesar has been told since the 12th century. The epic was popularly narrated in China, Sikkim, Tibet, Bhutan, Gilgit, Baltistan, Ladakh and other parts of central Asia. All these regions have their own version of the epic. The narration of the whole epic takes days to complete. Mireille Gehin narrates the Tibetan version of King Kesar based on the writing on French Tibetologist, Alexandar David Neel and German Ethnologist, A. H Francke.