Spituk monastery celebrates its annual festival 'Gustor'
R K Mathur, L-G, witnesses mask dance rituals
By
Reach Ladakh Correspondent
SPITUK, Jan 23, 2020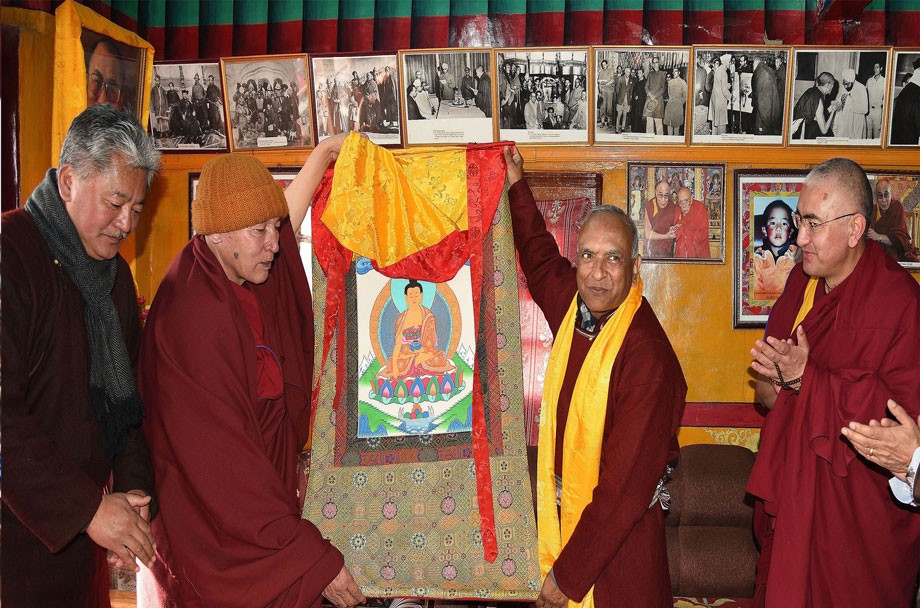 SPITUK :
The two-day annual monastic festival, 'Spituk Gustor' was celebrated with religious fervour on January 22 and 23 at Spituk monastery.
RK Mathur, Lieutenant Governor Ladakh was the chief guest on the first day of the festival.
He was briefed about the monastery, it's head lama His Eminence Bakula Rinpoche and the extraordinary contributions of 19th Kushok Gyalras Bakula Rinpoche for the people of Ladakh.
He witnessed the mask dance and later visited the shrine of Paldan-Lamo (protector deity) and seek blessing.
Celebrating since 11th century symbolizing the victory of good over evil, Spituk Gustor is held on 28th and 29th of the 11th month of the Tibetan calendar every year. The festival is celebrated to promote world peace, happiness, and welfare of all beings. Meditation and prayers are performed by the monks of the monastery days prior to the festival for world peace.   
Tsering Sandup, Deputy Chairman, Hill Council, Leh; Konchok Stanzin, EC Education; PT Kunzang, President LBA; Ven. Lobzang Angchuk, President, Galdan Targyasling Cultural and Welfare Society Spituk and many other dignitaries were also present during the festival.