Shina Dardi Cultural and Literary Meet cum Book Release function held in Kargil
By
Reach Ladakh Correspondent
Kargil, Dec 26, 2020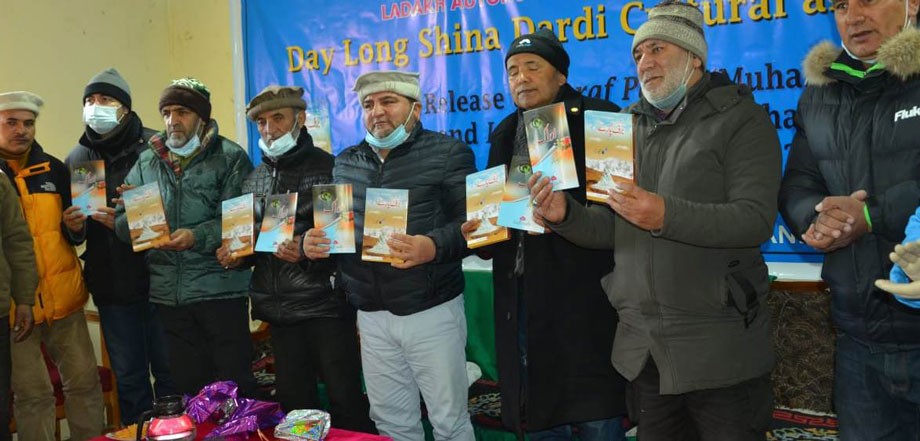 Kargil :
District Level Shina Dardi Cultural and Literary Meet cum Book release function was organised by Ladakh Academy of Art, Culture and Languages at Language Center New Academy Complex, Kargil on December 26.
Two books of short story collections in Urdu titled Baraf Paray and Idraak by noted Shina Dardi and Urdu poet and writer Muhammad Shafi Sagar and Muhammad Shabir Misbahi respectively were released.   
Different sessions of poetic compositions, short story recital, and research-oriented papers by the senior as well as budding poets, Afsana Nigars, and writers were presented.  
More than 40 Shina/Dardi writers, poets, and scholars participated in the daylong event.
Raza Amjad Badgami presented a research-oriented paper on Shina Dardi culture and literature, while the poets who rendered their poetic compositions included Arif Hussain Ladakhi, Fida Ali Fida, Muhammad Yaseen Ansari, Muhammad Asgar Aasi, Ghulam Qadir Zaki, and Ghulam Ahmad Khan Jawan.   
EC Mubarak Shah Nagvi said that the gathering would undoubtedly prove an ideal occasion to the men of letters in this language belonging to different parts of Kargil district to know each other's literary pursuits from close quarters and to generate discussion and devise strategies for further development of the language.
He also appreciated the continued initiatives of LAACL Kargil towards the promotion and preservation of the multiethnic culture and traditions in the district and asked the officers concerned to organize similar programmes from time to time.
He further said that the LAHDC, Kargil is fully committed to foster the culture and literary traditions in the district and all-out support would be extended to the LAACL, Kargil for smooth and successful holding of such cultural and literary events.  
Meanwhile, solo folk singers and musicians including Ahsan Ali, Fatima Nissa, Tsering Namgyal, Muhammad Ilyas, and Stanzin Laktso presented lively Shina Dardi folk music and songs on the occasion.
Special Officer for Cultural Activities, Muhammad Ali Tak spoke about the aims and objectives of the daylong event and threw light on the various initiatives being taken by LAACL Kargil towards the promotion and preservation of the multiethnic culture and linguistic traditions in the district.
 
Photo Caption: During the release of two books titled Baraf Paray and Idraak.