Shachukul celebrates Losar traditionally, attracts huge gathering
By
Kunzang Chosdol
LEH, Jan 04, 2018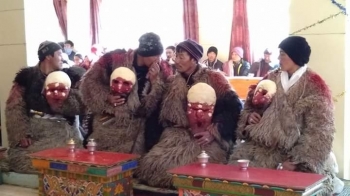 LEH :
Losar is celebrated in every village with different tradition and practice which are still being carried out in some villages like Apo Ape, Lama Jogi, Karok, Bak tradition in only selected villages of Ladakh region.
Villages like Choglamsar, Nimmo, and Likir are reviving the tradition.
The traditional way of celebrating Losar is still practice and kept alive in Shachukul village. The iconic part of the celebration is the Mask (Bak) ritual and performance and the celebration are carried out in and around villages for almost 12 days.
On the 1st day of 11th month of Tibetan calendar, two men wear the mask which will proceed to search another eight members.
The mask is worn every year by a common man on a rotation basis and same is practiced for the companion of two mask wearers known as Labruk and Lamo.
Tsetan Tashi, Musician (Daman player) of Shachukul said, "Mask tradition existed from the time inception. The previous His Eminence Togdan Rinpoche, Gyalsras Tsewang adopted the tradition with Gur-Lha which has been carried out until today. H.E started this tradition in order to bring and maintain peace, prosperity, harmony in the village".
He added, "We should follow the tradition and pay respect as it is considered as the Protector (Lha) of Togdan Rinpoche. Having them in houses and offering them brings peace, happiness, and prosperity. Serving them is considered as a huge job."
He further added, "In order to preserve the intangible culture like songs, the younger generation should take interest in learning and performing in every celebration. These traditional cultures are the main legacy of our forefather which we have to be promoted."
Sonam Tundup, President Youth Association, Shachukul, "Mask tradition is one of the most important traditions that have been existed in the village and we are taking a keen interest to preserve this. It is our responsibility to carry forward such culture and tradition passed down by our ancestors. We have also been working on reviving the traditional dance and songs by organizing cultural programme among the youths in the village".
"Apart from preserving traditional dance and songs we are trying to revive the traditional system of holding a feast in each house during Losar which was also a great part of Losar celebration in the past but has been vanished today", he added.
The group of mask wearer consists of ten members including two men (bak), four men (Labruk), two men (Lamo), two Daman and Surna players. The duty of Labruk is to assist bak during the offering and collecting money, Bak asks for money from every head of the family by visiting each household despite they ask money from new people who come during Losar, and if someone gets a new car, houses, jobs etc. Whereas, Lhamo most of the time works to serve their group with tea and local wine.
Tsering Jigmat, one of a local said, "We feel rich to have such tradition in our village and to witness this tradition and celebration all the members of the family gathers during Losar which further strengthen the relationship among relatives and members. Such celebration at community level further creates a social institution for the children and elders to interact and share happiness with each other."
Bak tradition is also existed and carried out in Tangtse and Durbuk villages.
While asking about them Tsetan Tashi said, "I don't have much knowledge but the Bak of Tangtse was started during the King's reign so they are called Gyalpoi Gurlha whereas Bak of Durbuk is Gurlha of oracle Tak-Lha Wangchuk."
On the 4th day of 11 months, the bak of Tangtse also visits Shachukul where both the bak dance together locally called Baknol. This is one of the main celebrations.
After 12 days, the mask is taken off thus marking the end of Losar celebration.