Over 70 different 'Thankas' exhibited on second day of Ladakh festival, 2019
By
Reach Ladakh Correspondent
Leh, Sep 03, 2019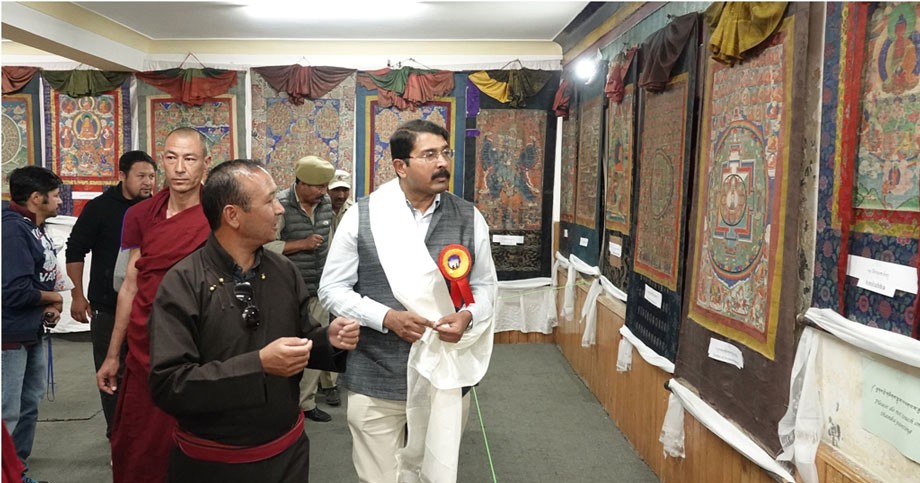 Leh :
On the second day of Ladakh festival 2019, Thanka exhibition was inaugurated by Saugat Biswas, Divisional Commissioner Ladakh on September 2 at Chowkhang Vihara. 
Div. Com Ladakh inspected more than 70 different Thankas and appreciated the monks of Disket monastery for exhibiting the centuries-old Thankas. He added that Thankas exhibition is one of the major attractions of the Ladakh festival to showcase the cultural richness to the outside world. He said that locals can also enjoy the exhibition which will be exhibited even tomorrow at Chokang Vihara Hall.  
Monastic dance (Chams) were presented by the monks of Diskit Monastery in the courtyard of Chowkhang Vihara. Tourist from different parts of the world also took part in this festival.
Saugat Biswas also inspected the photo exhibition of more than 200 species of birds of Ladakh organized by Wildlife Conservation & Birds Club of Ladakh (WCBCL). He appreciated the hard work of the photographers and their contribution to the festival.
Div. Com along with all the guests visited the Handicraft, Handloom and Food stalls at eco-park and enjoyed local foods. 
While interacting with the self-help groups he enquired about the prices and encouraged them to ensure better quality and improved presentation of their products. A good number of foreign and domestic tourists witnessed the exhibitions.