One Day Balti Cultural and Literary Meet held in Kargil
By
Reach Ladakh Correspondent
Kargil, Oct 28, 2020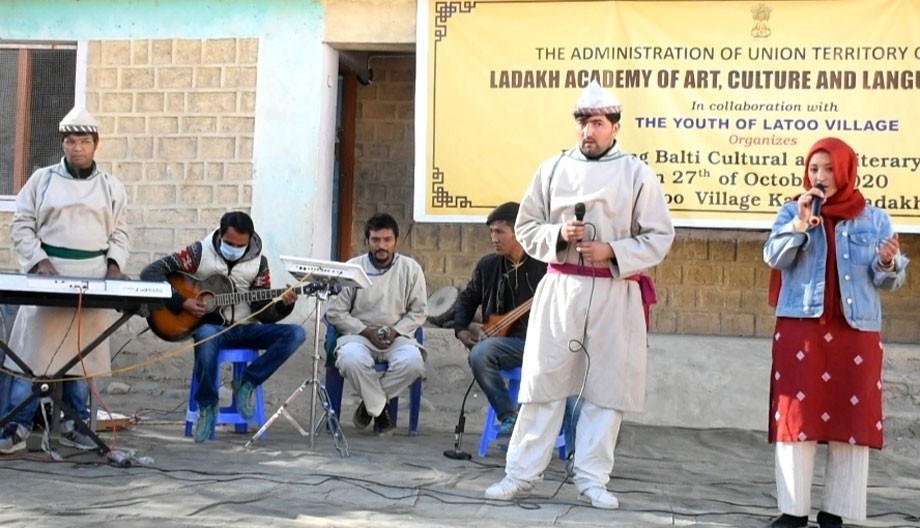 Kargil :
More than 30 writers, poets, observers, and folk artists participated in the one day Balti Cultural and Literary Meet at Latoo village on October 27. 
 
The program was organised by the Ladakh Academy of Art, Culture, and Languages, Kargil. The aim was to give impetus to the art of poetry, preparation of research-oriented papers on different aspects of culture and literature, short story writing besides to give a platform to the Balti poets, writers, and folk singers to showcase their fresh cultural and literary endeavours.
 
Poetic recital, short story recital, and research-oriented papers were presented by the participants. A folk song presentation session was also held. 
 
Balti poet, Akhone Asgar Ali Basharat presided over the literary sessions. Many other poets including Bashir Ahmad Wafa; Akhone Muhammad Ali; Subeor Muhammad Ali Ashour; Sibte Hassan Kaleem; Akhone Asgar Ali Basharat; Fazil Abbass; Ashraf Ali Sagar; Ahsan Ali Rozi; Ghulam Nabi Skith were also present.
 
Muhammad Sadiq Hardassi and Fazil Abbass presented their research-oriented papers on the topic Balti Culture and Literature-An Overview and Balti Language and Script. While Muhammad Ali Ashour also presented a short story. 
 
District Cultural Officer, Kargil, Muhammad Ali Tak informed about the various steps being taken by Ladakh Academy of Art, Culture and Languages, Kargil towards the promotion and preservation of the multiethnic culture of Kargil. 
 
He stated the day-long cultural and literary aims to provide a platform to the writers and scholars of Balti language to carry out healthy discussions and deliberations about the issues and challenges of the language besides to contemplate on a roadmap.
 
Folk singers and musicians including Sadiq Ali Ashour; Fatima Nissa; Ghulam Muhammad; Ashiq Hussain; Muhammad Abbass Skith; Stanzin Laksto and Gulzar Hussain Sofi presented their performances.