NGO 17000ft foundation launches 21 Bhoti books on Children's Day
By
Fatima Ashraf Barcha
Choglamsar, Dec 02, 2015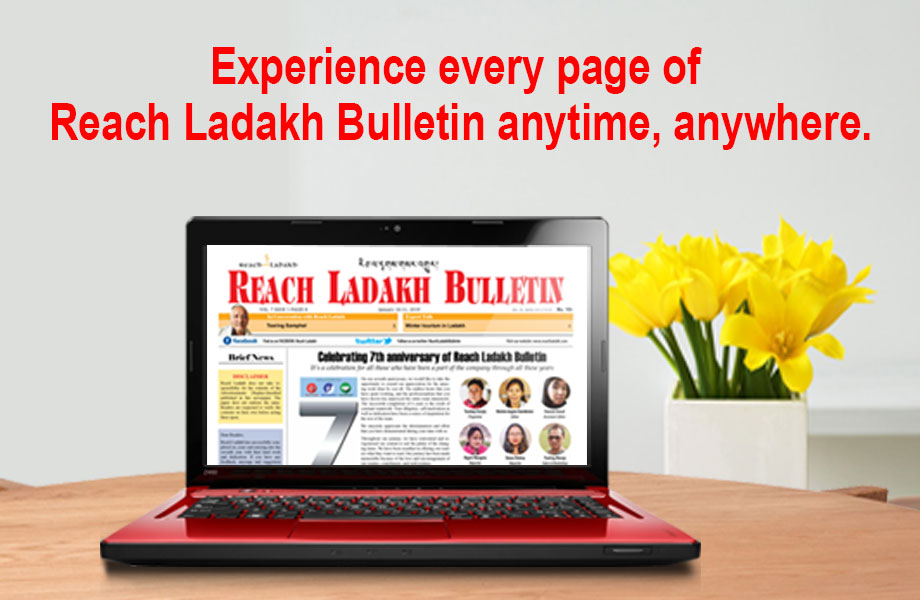 Choglamsar :
The NGO 17000ft foundation had launched 21 Bhoti short story and knowledge books under their project called Bhoti@17000ft for more than 350 Govt. and Monastery Schools of Leh District on 14th November at CIBS auditorium. The project was partnered with Drepung Loseling Pethub Khangtsen Education Society, Pratham and Scholastic Publishers and has published around 21,000 of these books.
The translation of these shortlisted 21 English books to Bhoti was done by Prof. Geshe Konchok Wangdus, Director, CIBS, Leh and Ven. Thupstan Wangdus, a teacher at Lamdon Model School Leh.
The Chief Guest of the occasion was CEC Leh-Dr Sonam Dawa and Guest of honour was DC Leh- Prassana Ramaswami G. Neeraj Jain-Managing Director of Scholastic, Himanshu Giri, CEO Pratham Books, Jail Kumar-Chief Education Officer, Executive Councillors, Councillors, Religious Community Presidents, Teachers and Students from various Govt. schools were also present on the occasion.
Dawa Jora-Director, the 17000ft foundation presented the welcome speech and Geshe Konchok Wangdus gave an introduction about the aims of the Bhoti@17000ft Project.
Sujata Sahu, Founder of 17000ft foundation briefed about the organisation and its ongoing projects. She said that they realized that the children were deprived of story books in their native language and that is how this project was initiated taking two years to complete. She also said that the reason why they are working in Ladakh is because both the teachers and children in the Govt. Schools of the district are actively going to schools unlike the rest of India so why not encourage them more.
She also said that 90% of the schools in Ladakh are remote therefore the aim of 17000ft is "to go remote" aiming to transform lives in the remotest of villages by improving the education system and providing opportunities for a better life.
They made 600 visits in one year to schools in far flung areas of Ladakh to inculcate in children the habit of learning better through reading books.
She also showed an analysis test of Annual Status of Education Report (ASER)conducted in various schools which showed that the children of Ladakh on average were better in identifying the letters and words than rest of the J&K state and the Nation, but, unfortunately, these children have a very low level of understanding the identified words. She emphasized that this drawback can only be erased if the reading habits are increased.
The books were released by Dr. Sonam Dawa, Prassana Ramaswami G, Neeraj Jain, Himanshu Giri, Geshe Konchok Wangdus, Jail Kumar and Konchok Angmo-DIET Principal. This was followed by Dr. Sonam Dawa and Geshe Konchok Wangdus reading out stories to the audience from the new books.
Dr Dawa, CEC Leh appreciated the work of 17000ft and congratulated them for their success. He added that promoting Bhoti in schools is a good step to preserve the culture of the society and that they are working to with the Central Government to include Bhoti as one of the national languages in the 8th Schedule of the constitution.
DC Leh also appreciated and said that the administration has been looking for a partner in improving the education standards of the district and 17000ft seems fit to rely on.
Himanshu Giri said that as they have published books in many vernacular books their publication is always up for unique initiatives. He added that their experience with Bhoti@17000ft has been an amazing journey.
Neeraj Jain said that their company publishes books in over 150 countries and in many languages. He added that having partnered with Bhoti@17000ft project has been a unique and enriching experience. He added that the books that they have selected in translating to Bhoti were among those that are published all over the world. He requested the parents to make sure that the children explore these books to improve their knowledge.
Towards the end of the event, the children from Middle School Sankar gave a very creative performances enacting from the published books. The vote of thanks was given by Sandeep Sahu.
17000 ft Foundation is a three year old NGO in Ladakh that works to improve education in remote schools. In the three years of its existence, 17000 ft has setup libraries in 100 schools, built playgrounds and provided furniture in 19 schools, and trained hundreds of teachers in different methodologies. They have now also expanded their operations in Kargil district. The founders of this foundation are Sujata Sahu, Sandeep Sahu and Dawa Jora.