Multilingual Hussaini poetic recital session concludes in Kargil
By
Reach Ladakh Correspondent
Kargil, Oct 07, 2020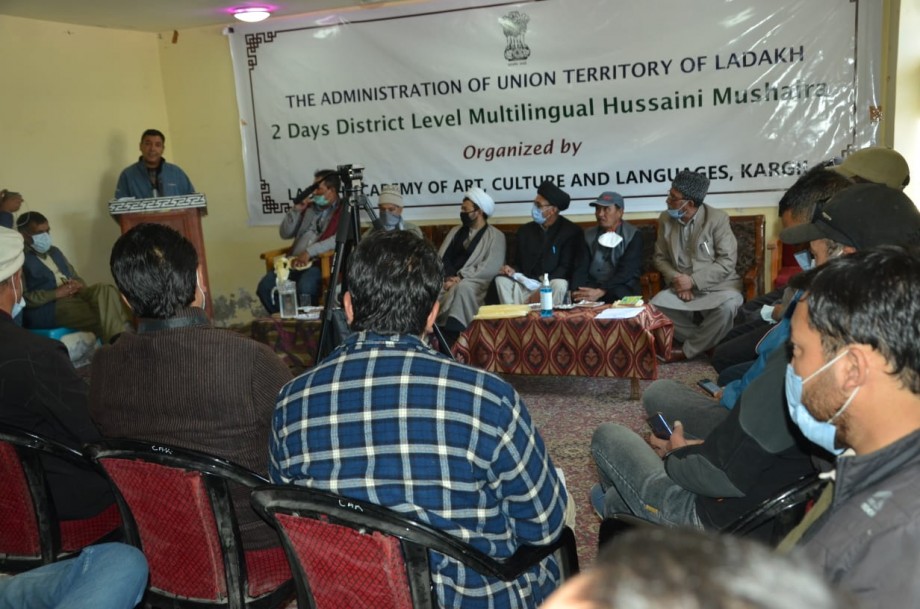 Kargil :
A two-day-long District Level Multilingual Hussaini Mushaira organised by Ladakh Academy of Art, Culture and Languages, Kargil concluded on October 7 at Language Centre New Academy Complex.
Around 40 senior as well as novice poets across the district representing Urdu, Balti, Purgi and Shina Dardi languages participated during the two days programme.
On the last day, around 20 poets rendered their poetic compositions, paying rich tribute to the martyrs of Karbala and reflecting upon the philosophy of martyrdom. 
Vice-Chairman Religious Affairs, Imam Khomeini Memorial Trust (IKMT), Sheikh Bashir Ahmad Shakir congratulated the academy for organising the two-day literary event. He stated that such gathering provides an ideal platform for the poets to share their fresh literary endeavours.
Sheikh Bashir also stressed the poets, writers and intellectuals to further fortify their efforts towards bringing out positive attitudes and enlightenment in society through their creativity.
District Cultural Officer Kargil, Muhammad Ali Tak expressed gratitude to all the participants for making the 2-day literary event successful.